TV Show Trivia, Episode
Lists, Descriptions,
& Cast Photos!


Action TV Shows
Home
---

NOTE: Lists compiled by
date 1st episode aired:

40s TV Shows
---

TV Shows on Dvd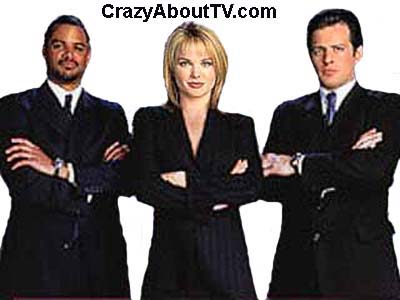 Genre:
The Secret Agent Man TV show was a 60 minute spy action series on UPN (now the CW Network) where three top government agents took on missions in order to save the world from evil.
Secret Agent Man Cast
Costas Mandylora ........... Monk
Dondre Whitfield ........... Parker
Dina Meyer ................. Holiday
James Remar ................ Brubeck
Theme Song
Title: "Secret Agent Man"
By: "P.F. Sloan and Steve Barri"

There's a man who leads a life of danger.
To everyone he meets he stays a stranger.
With every move he makes,
Another chance he takes.
Odds are he won't live to see tomorrow.

Secret Agent Man.
Secret Agent Man.
They've given you a number.
And taken away your name.
Episodes List With Original Air Dates
The First And Only Season
From Prima With Love (3/7/2000)
Back To School (3/14/2000)
WhupSumAss (3/21/2000)
Like Father, Like Monk (3/28/2000)
Supernaked (4/4/2000)
The Elders (5/26/2000)
The Face (6/2/2000)
Sleepers (6/9/2000)
Uncle S.A.M. (7/7/2000)
Fail-Safe (7/14/2000)
T.K.O. Henry (7/21/2000)
Breach (7/28/2000)
Thank you for visiting our Secret Agent Man page!
Copyright © 1997-2018 CrazyAboutTV.com
All rights reserved