TV Show Trivia, Episode
Lists, Descriptions,
& Cast Photos!


Action TV Shows
Comedy TV Shows
Drama TV Shows
Fantasy & Horror
Kids TV Shows
Miniseries
Reality TV Shows
Sci-Fi TV Shows
TV Game Shows
All Others
TV Shows
---

NOTE: Lists compiled by
date 1st episode aired:

40s TV Shows
50s TV Shows
60s TV Shows
70s TV Shows
80s TV Shows
90s TV Shows
2000s TV Shows
---

TV Shows on Dvd
TV Show Theme Songs
TV Trivia
TV Spin-Offs
TV Forums
Privacy Policy
Secret Agent Man
CrazyAboutTV.com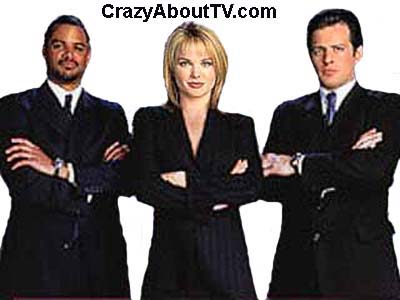 Genre:
The Secret Agent Man TV show was a 60 minute spy action series on UPN (now the CW Network) where three top government agents took on missions in order to save the world from evil.
Secret Agent Man Cast:
Costas Mandylora ........... Monk
Dondre Whitfield ........... Parker
Dina Meyer ................. Holiday
James Remar ................ Brubeck
Theme Song Lyrics
Title: "Secret Agent Man"
By: "P.F. Sloan and Steve Barri"

There's a man who leads a life of danger.
To everyone he meets he stays a stranger.
With every move he makes,
Another chance he takes.
Odds are he won't live to see tomorrow.

Secret Agent Man.
Secret Agent Man.
They've given you a number.
And taken away your name.
Episodes List With Original Air Dates
The First And Only Season
From Prima With Love (3/7/2000)
Back To School (3/14/2000)
WhupSumAss (3/21/2000)
Like Father, Like Monk (3/28/2000)
Supernaked (4/4/2000)
The Elders (5/26/2000)
The Face (6/2/2000)
Sleepers (6/9/2000)
Uncle S.A.M. (7/7/2000)
Fail-Safe (7/14/2000)
T.K.O. Henry (7/21/2000)
Breach (7/28/2000)
Thank you for visiting our Secret Agent Man page!
Copyright © 1997-2013 CrazyAboutTV.com
All rights reserved