TV Show Trivia, Episode
Lists, Descriptions,
& Cast Photos!


Action TV Shows
Home
---

NOTE: Lists compiled by
date 1st episode aired:

40s TV Shows
---

TV Shows on Dvd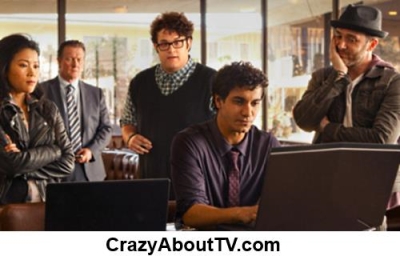 Series Description

The Scorpion TV show is a 60 minute drama series on CBS about an unconventional young genius who recruits other misfit geniuses from around the world to work together and solve the world's most complicated threats for the U.S. Department of Homeland Security.
Scorpion Cast
Elyes Gabel .... Walter O'Brien
Katharine McPhee .... Paige Dineen
Eddie Kaye Thomas .... Toby Curtis
Robert Patrick .... Cabe Gallo
Jadyn Wong .... Happy Quinn
Ari Stidham .... Sylvester Dodd
Scorpion Trivia
This series is based on the real life of a genius named Walter O'Brien who is the CEO of Scorpion Computer Services.
Thank you for visiting our Scorpion TV Show page!
Copyright © 1997-2018 CrazyAboutTV.com
All rights reserved