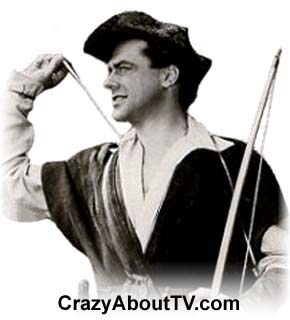 Series Description

Adventures of Robin Hood was a 30 minute action/adventure series that was written mainly for children. It originated on ITV in the United Kingdom. In the U.S., it aired on CBS for its first three seasons and then in syndication for its fourth and final season. It was about a band of men, led by Robin Hood who protected English citizens from the evil Prince John's temporary rule while the beloved King Richard was off fighting in the Crusades.

Robin Hood Cast

Richard Greene .... Robin Hood
Archie Duncan .... Little John (All but 10 episodes)
Rufus Cruikshank .... Little John (10 episodes - see trivia below)
Alexander Gauge .... Friar Tuck
Alan Wheatley .... Sheriff of Nottingham
Victor Woolf .... Derwent
Paul Eddington .... Will Scarlett (1956-1960)

Robin Hood Trivia

Adventures of Robin Hood used several actors over and over again, but in different roles each time they appeared! The series also used one actor to play a role that had been played previously by a different actor! That was a bit confusing!

Adventures of Robin Hood's title song was performed by Dick James who would later become the music producer for both Paul McCartney and John Lennon!

One occurence of the actor changing in the same role did make sense. At one point, Archie Duncan (Little John) was seriously injured while heroically saving two child actors on a runaway horse! He was replaced by actor Rufus Cruikshank for ten episodes until Archie was able to return to the series.

Paul Eddington appeared in the second season as Will Scarlett but he had appeared on the Adventures of Robin Hood during the first season. During the first 40 episodes he played 20 different roles!

Nearly every show that appeared in the U.S. in the mid 1950s had to have a sponsor that would support the entire show! The Adventures of Robin Hood's sponsor was the "Wild Root Hair Oil Company".

Adventures of Robin Hood had a pretty decent time slot when it premiered in 1955. It began CBS's Monday Night schedule at 7:30PM and was followed by "The George Burns and Gracie Allen Show" at 8:00, "Arthur Godfrey's Talent Scouts" at 8:30, "I Love Lucy" at 9:00, "December Bride" at 9:30, and "Studio One" at 10:00!

At the time that this series appeared in the U.S., a Congressional committee was investigating suspected Communists in the entertainment industry. The writers responsible for most of the first season's scripts on the Adventures of Robin Hood TV show were Ring Lardner Jr. and Ian McLellan Hunter. They had already been "blacklisted" by that committee and weren't allowed to participate in any project that would air in the U.S. The series' producers were well aware of that fact but refused to participate in the firing of anyone based on their political views. Lardner and McLellan did have to resort to using different pseudonyms every few episodes so that the series would be allowed to air in the U.S.

Episodes List With Original Air Dates

Season 1

The Coming of Robin Hood (9/26/1955)
The Moneylender (10/3/1955)
Dead or Alive (10/10/1955)
Friar Tuck (10/17/1955)
Maid Marian (10/24/1955)
A Guest for the Gallows (10/31/1955)
The Challenge (11/7/1955)
Queen Eleanor (11/14/1955)
Checkmate (11/21/1955)
The Ordeal (11/28/1955)
A Husband for Marian (12/5/1955)
The Highlander (12/12/1955)
The Youngest Outlaw (12/19/1955)
The Betrothal (12/26/1955)
The Alchemist (1/2/1956)
The Jongleur (1/9/1956)
The Brothers (1/16/1956)
The Intruders (1/23/1956)
The Sheriff's Boots (1/30/1956)
Errand of Mercy (2/6/1956)
The Vandals (2/13/1956)
Richard the Lionheart (2/20/1956)
Ladies of Sherwood (2/27/1956)
Will Scarlet (3/5/1956)
The Deserted Castle (3/12/1956)
The Miser (3/19/1956)
Trial by Battle (3/26/1956)
Children of the Greenwood (4/2/1956)
The May Queen (4/9/1956)
The Wanderer (4/16/1956)
The Byzantine Treasure (4/23/1956)
Secret Mission (4/30/1956)
The Inquisitor (5/7/1956)
Tables Turned (5/14/1956)
The Traitor (5/21/1956)
The Thorkil Ghost (5/28/1956)
The Knight Who Came to Dinner (6/4/1956)
The Wager (6/11/1956)
The Prisoner (7/9/1956)
Season 2
A Village Wooing (10/1/1956)
The Scientist (10/8/1956)
Blackmail (10/15/1956)
A Year and a Day (10/22/1956)
The Goldmaker (10/29/1956)
The Imposters (11/5/1956)
Ransom (11/12/1956)
Isabella (11/19/1956)
The Hero (11/26/1956)
The Haunted Mill (12/3/1956)
The Black Patch (12/10/1956)
Outlaw Money (12/17/1956)
The Friar's Pilgrimage (12/24/1956)
The Trap (12/31/1956)
Hubert (1/7/1957)
The Dream (1/14/1957)
The Blackbird (1/21/1957)
The Shell Game (1/28/1957)
The Final Tax (2/4/1957)
The Ambush (2/11/1957)
The Bandit of Brittany (2/18/1957)
The Goldmaker's Return (2/25/1957)
Flight from France (3/4/1957)
The Secret Pool (3/11/1957)
Fair Play (3/18/1957)
The Dowry (3/25/1957)
The York Treasure (4/1/1957)
The Borrowed Baby (4/8/1957)
The Black Five (4/15/1957)
Food for Thought (4/22/1957)
Too Many Earls (4/29/1957)
Highland Fling (5/6/1957)
The Mystery of Ireland's Eye (5/13/1957)
The Little People (5/20/1957)
The Infidel (5/27/1957)
The Frightened Tailor (6/3/1957)
The Path of True Love (6/10/1957)
The Road in the Air (6/17/1957)
Carlotta (6/24/1957)
Season 3
The Salt King (9/30/1957)
A Tuck in Time (10/7/1957)
Pepper (10/14/1957)
The Charter (10/21/1957)
A Change of Heart (10/28/1957)
Brother Battle (11/4/1957)
My Brother's Keeper (11/11/1957)
An Apple for the Archer (11/18/1957)
The Angry Village (11/25/1957)
The Mark (12/2/1957)
The Bride of Robin Hood (12/9/1957)
To Be a Student (12/16/1957)
The Christmas Goose (12/23/1957)
The Challenge of the Black Knight (12/30/1957)
The Rivals (1/6/1958)
The Profiteer (1/13/1958)
Knight Errant (1/20/1958)
The Healing Hand (1/27/1958)
One Man's Meat (2/3/1958)
Too Many Robins (2/10/1958)
The Crusaders (2/17/1958)
Castle in the Air (2/24/1958)
The Double (3/3/1958)
Roman Gold (3/10/1958)
The Ghost That Failed (3/17/1958)
At The Sign Of The Blue Boar (3/24/1958)
Quickness of the Hand (3/31/1958)
The Elixir of Youth (4/7/1958)
The Genius (4/14/1958)
The Youthful Menace (4/21/1958)
The Minstrel (4/28/1958)
The Doctor (5/5/1958)
The Lottery (5/12/1958)
The Fire (5/19/1958)
Lincoln Green (5/26/1958)
Woman's War (6/2/1958)
Little Mother (6/9/1958)
Marian's Prize (6/16/1958)
Farewell to Tuck (6/30/1958)
Season 4

NOTE: The Adventures of Robin Hood left network-wide television in the U.S. for its fourth season but continued to air on numerous stations in syndication. Therefore, no airdates are listed.

Sybella
The Lady-Killer
A Touch of Fever
The Devil You Don't Know
The Loaf
Six Strings to his Bow
Tuck's Love Day
A Bushel of Apples
The Truce
The Debt
The Oath
The Charm Pedlar
Goodbye Little John
The Reluctant Rebel
The Bagpiper
The Parting Guest
Hostage for a Hangman
Hue and Cry
The Champion
The Edge and the Point
A Race Against Time
The Pharoah Stones
Bride for an Outlaw
Double Trouble
Trapped
Find Your Favorite Shows From Our List Of Thousands!
Home Page
1940s
1950s
1960s
1970s
1980s
1990s
2000+
Action
Comedy
Drama
Fantasy/Horror
For Kids
Miniseries
Reality
Sci-Fi
Game Shows
Others
TV on Dvd
Theme Songs
TV Schedule
Spin-Offs
Privacy Policy
Thank you for visiting our Adventures of Robin Hood page!
Copyright © 1997-2014 CrazyAboutTV.com
All rights reserved