TV Show Trivia, Episode
Lists, Descriptions,
& Cast Photos!


Action TV Shows
Comedy TV Shows
Drama TV Shows
Fantasy & Horror
Kids TV Shows
Miniseries
Reality TV Shows
Sci-Fi TV Shows
TV Game Shows
All Others
TV Shows
---

NOTE: Lists compiled by
date 1st episode aired:

40s TV Shows
50s TV Shows
60s TV Shows
70s TV Shows
80s TV Shows
90s TV Shows
2000s TV Shows
---

TV Shows on Dvd
TV Show Theme Songs
TV Trivia
TV Spin-Offs
TV Forums
Privacy Policy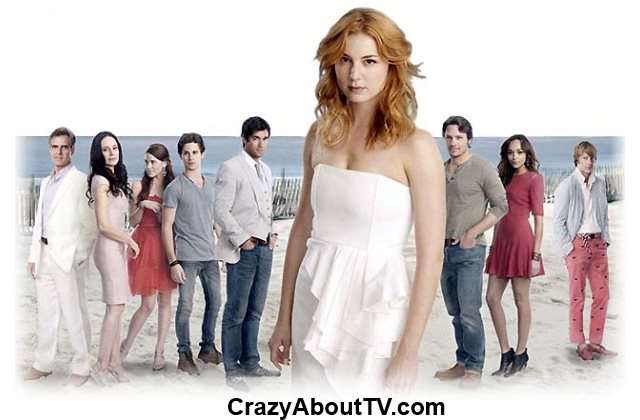 Series Description:
The Revenge TV show is a 60 minute drama series that premiered on September 21, 2011 on ABC. When a young girl's family is destroyed by people living in an exclusive community in the Hamptons, she grows up to return as a wealthy and mysterious young woman who seems sweet on the outside but wants nothing but revenge on the inside. Those she's after have shocking secrets that make her goal an easy one.
Revenge Cast:
Emily VanCamp ................ Emily Thorne
Madeleine Stowe .............. Victoria Grayson
Henry Czerny ................. Conrad Grayson
Gabriel Mann ................. Nolan Ross
Ashley Madekwe ............... Ashley Davenport
Nick Wechsler ................ Jack Porter
Connor Paolo ................. Declan Porter
Christa B. Allen ............. Charlotte Grayson
Joshua Bowman ................ Daniel Grayson
Revenge Trivia:
The Revenge TV show is loosely based on the classic novel, "The Count of Monte Cristo" by Alexandre Dumas while being updated for twenty-first century audiences.

A tagline heard in an early promo says it all about this series. "Some forgive. Others forget. But all she wants is revenge."
Episodes List With Original Air Dates
The First Season
Pilot Episode (9/21/2011)
Trust (9/28/2011)
Betrayal (10/5/2011)
Duplicity (10/12/2011)
Guilt (10/19/2011)
Intrigue (10/26/2011)
Charade (11/2/2011)
Treachery (11/16/2011)
Suspicion (11/23/2011)
Loyalty (12/7/2011)
Duress (1/4/2012)
Infamy (1/11/2012)
Commitment (1/18/2012)
Perception (2/8/2012)
Chaos (2/15/2012)
Scandal (2/29/2012)
Doubt (4/18/2012)
Justice (4/25/2012)
Absolution (5/2/2012)
Legacy (5/9/2012)
Fear (5/16/2012)
Reckoning (5/23/2012)
The Second Season
Destiny (9/30/2012)
Resurrection (10/7/2012)
Confidence (10/14/2012)
Intuition (10/21/2012)
Forgiveness (10/28/2012)
Illusion (11/4/2012)
Penance (11/11/2012)
Lineage (11/25/2012)
Revelations (12/2/2012)
Power (1/6/2013)
Sabotage (1/13/2013)
Collusion (1/20/2013)
Union (2/10/2013)
Sacrifice (2/17/2013)
Retribution (3/10/2013)
Illumination (3/17/2013)
Victory (3/24/2013)
Masquerade (3/31/2013)
Identity (4/28/2013)
Engagement (5/5/2013)
Truth - Part 1 (5/12/2013)
Truth - Part 2 (5/12/2013)
The Third Season
Fear (9/29/2013)
Sin (10/6/2013)
Confession (10/13/2013)
Mercy (10/20/2013)
Control (10/27/2013)
Dissolution (11/3/2013)
Resurgence (11/10/2013)
Secrecy (11/17/2013)
Surrender (12/8/2013)
Exodus (12/15/2013)
Homecoming (3/9/2014)
TV Specials:
From the Beginning (4/11/2012)
The First Chapter (9/26/2012)
Thank you for visiting our Revenge TV show page!
Copyright © 1997-2013 CrazyAboutTV.com
All rights reserved