TV Show Trivia, Episode
Lists, Descriptions,
& Cast Photos!


Action TV Shows
Home
---

NOTE: Lists compiled by
date 1st episode aired:

40s TV Shows
---

TV Shows on Dvd
Real Time With Bill Maher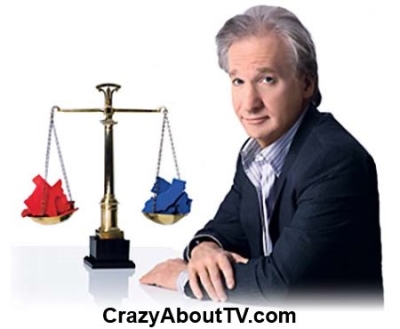 Series Description

Real Time With Bill Maher is a 60 minute political talk show series on HBO where political satirist Bill Maher "gets in the face" of right-wing conservatives although Bill does occasionally also criticize what he feels are errant actions by Liberal Democrats. The show typically begins with a monologue by Mr. Maher making fun of the right-wing of the Conservatives. Then there's a more serious discussion of some political subject of current interest with a guest expert. After that Bill hosts a panel that usually but not always includes at least one Conservative where more current interest subjects are even more seriously discussed although Bill does manage to fit in a bit of satire. The panelists for this segment include celebrities, educators, newscasters, political commentarists and politicians. In closing the show, Bill does a segment titled, "New Rules" which is political satirism at its extreme and provides gut-renching laughs for many Liberals and upset stomachs for most Conservatives by making Conservatives look extremely foolish. It's definitely a show that you most likely will either love or hate.
Real Time With Bill Maher Cast
Bill Maher ....................... Host
Real Time With Bill Maher Trivia
Bill Maher hosted another series nearly identical to Real Time With Bill Maher that aired on Comedy Central and later on ABC from 1993-2002. It was titled, "Politically Incorrect" which was probably a better title for describing the show than is "Real Time". That show was cancelled due to declining ratings according to ABC. There was a controversy on Politically Incorrect that most likely contributed to the declining ratings. On the September 17, 2001 episode guest Dinesh D'Souza said that the Saudis who attacked the U.S. six days earlier were not terrorists, rather they were "Warriors". Bill Maher agreed with that statement. They discussed how U.S. influence in the Middle East caused many Arabs to believe that America was trying to destroy their way of life. They went on to say that the U.S. military action during the first Iraqi War had also resulted in the deaths of many innocent Arabs and that American arms sales to Israel threatened Arab lives. Therefore, regardless of how one felt about the righteousness of the September 11th attacks, it was a wartime attack, not a terrorist attack. Many newspeople at the time were also stating that the U.S. should consider how its actions might be influencing the thinking of radicals in the Arab world to perhaps change policies to reduce that type of thinking. Of course, it was way too soon to have a serious discussion of any wrong-doing whatsoever on the part of Americans who were shocked by the horrible attack. It unfortunately will probably continue to be to soon for decades to come.

Ironically, some of the most prolific defenders of Maher's right to express the view that terrorists were really warriors were Conservatives including Rush Limbaugh, Arianna Huffington and David Horowitz!

Just six days after the final episode of Politically Incorrect aired, Bill Maher was awarded the "President's Award" by the "Los Angeles Press Club" for "championing free speech. This reflects what is most certainly Maher's greatest contribution to American society. Regardless of how you feel about his views or how he expresses them, he is without a doubt one of the greatest defenders of the right of free citizens to speak their minds no matter how it might offend others.

It may surprise you to learn that Bill Maher is close friends with Ann Coulter but it really makes quite a lot of sense. Ann could probably be described as Bill's anti-counterpart. She's on the far other end of the political spectrum from Bill but she presents her views in a no-nonsense, no-apologies method just like Bill. They are both unrelenting advocates of free speech and they obviously both respect in other's rights to express opposing viewpoints. It's likely that Liberals find Ann's banter just about as ridiculous as Conservatives find Bill's but hopefully we all join both of them in supporting their right to say what they think.
Episodes List With Original Air Dates
The First Season
Ann Coulter, Michael Eric Dyson, Larry Miller, Paul F. Tompkins, Dana Rohrabacher, Sarah Silverman, Larry David, Chris Rock and Zuhair Haddad (as Saddam Husein) (2/21/2003)
Monica Crowley, Paul F. Tompkins, David Horowitz, Eric Idle, Dave Matthews, Larry Miller, Ted Rall (2/28/2003)
Arj Barker, Doug Benson, Tony Camin, Woody Harrelson, D.L. Hughley, Paul F. Tompkins, Ted Rall (3/7/2003)
Paul F. Tompkins, Monica Crowley, Arianna Huffington, Jesse Jackson, Dennis Miller, Nick Swardson (3/14/2003)
Jon Brion, Larry Miller, Grant Lee Phillips, Paul F. Tompkins, Connie Rice, Tim Robbins (3/21/2003)
Janeane Garofalo, Michael Graham, Larry Miller, Paul F. Tompkins, Michael Moore, Bob Odenkirk (as God) (3/28/2003)
Michael Graham, Arianna Huffington, Aaron McGruder, Jeffrey Ross (4/4/2003)
Paul F. Tompkins, Michael Eric Dyson, Arianna Huffington, Doug McIntyre, Jerry Minor (as L. Witherspoon), Craig Robinson (as Chucky) (4/11/2003)
Ann Coulter, Michael Eric Dyson, Earthquake, Dennis Miller (4/18/2003)
Dave Allen (as The Naked Trucker), Clive Barker, Ann Coulter, D.L. Hughley, David Koechner (as Gerald 'T-Bone' Tibbons) (4/25/2003)
Bay Buchanan, Bob Graham, D.L. Hughley, Aaron McGruder, Reverend Al Sharpton (7/25/2003)
Alec Baldwin, Raymond L. Flynn, Barney Frank, Christopher Hitchens, Tara Setmayer, Leticia Van de Putte (8/1/2003)
Donna Brazile, Governor Gray Davis, Congressman David Dreier, Janeane Garofalo (8/8/2003)
Ann Coulter, Arianna Huffington, Orlando Jones, Congressman Dana Rohrabacher, Jesse Ventura (8/15/2003)
Bob Barr, Mayor Willie Brown, Margaret Cho, Harold Ford Jr., James Woolsey (8/22/2003)
Wolf Blitzer, Gen. Wesley Clark, Al Franken, D.L. Hughley, Bill Kristol (9/5/2003)
Betsy Hart, Paul Krugman, Terry McAuliffe, Liz Phair, Jesse Ventura (9/12/2003)
John David Hartfield, Dana Carvey, Nancy Pelosi, Tim Robbins, Christine Todd Whitman, Heather Wilson (9/19/2003)
Charles Barkley, John Edwards, Darrell Issa, Aaron McGruder, John Mellencamp, Michael Moore (9/26/2003)
The Second Season
Gen. Wesley Clark, Moby, Al Sharpton, Ron Silver (1/16/2004)
Richard Belzer, Farai Chideya, Senator John Edwards, David Frum, Ralph Nader (1/23/2004)
Sean Astin, Max Cleland, Larry Miller, Michael Moore, Mindy Tucker-Fletcher (1/30/2004)
Jennifer Granholm, Andrew Sullivan, Carol Moseley Braun, Rob Schneider, Ron Suskind (2/6/2004)
Heather Wilson, James C. Moore, Bill Burkett, William Baldwin, Deborah Simmons, Jason Alexander (2/13/2004)
Senator George Allen, Debra Dickerson, Jon Favreau, D.L. Hughley, Dennis Kucinich (2/20/2004)
Kwame Kilpatrick, Ian McKellen, Ralph Nader, Sandy Rios, Christie Todd Whitman (2/27/2004)
Senator Barbara Boxer, Bob Costas, Stephen Moore, Martin Short, Tavis Smiley (3/5/2004)
Kim Campbell, George Carlin, Sandra Tsing Loh, John McWhorter (3/12/2004)
Howard Dean, David Frum, Eddie Izzard, Russell Simmons, Gore Vidal (3/19/2004)
Andre Benjamin, Kim Campbell, Congressman David Dreier, Michael Moore, Ralph Nader, Barack Obama, Bill Owens, Al Sharpton (7/30/2004)
Bob Barr, Nina Easton, Kay Granger, Steve Harvey, Cokie Roberts (8/6/2004)
Maureen Dowd, Congressman Rahm Emanuel, Gary Hart, D.L. Hughley, Michelle Malkin (8/13/2004)
Ashleigh Banfield, Michael Eric Dyson, Janis Karpinski, Chris Matthews, John O'Neill, Congressman Dana Rohrabacher (8/27/2004)
Jason Alexander, Pat Buchanan, Howard Dean, Arianna Huffington, Andrew Sullivan (9/3/2004)
Christiane Amanpour, Julie Delpy, Kitty Kelley, P.J. O'Rourke, Cornel West (9/17/2004)
Drew Barrymore, Maureen Dowd, Larry Gelbart, Aaron McGruder, Congressman Charles Rangel (9/24/2004)
George Carlin, Tucker Carlson, The Dixie Chicks, Katty Kay, Steve Moore (10/1/2004)
David Cross, Michael Moore, Frank Rich, Tony Snow, Michael Steele (10/8/2004)
Howard Dean, Reverend Jesse Jackson, Garrison Keillor, Alanis Morissette, James Rogan (10/15/2004)
Bernadine Healy, Robert Kennedy Jr., James Rubin, Bradley Whitford, James Woolsey (10/22/2004)
Richard Belzer, Gen. Wesley Clark, Kevin Costner, Ann Coulter, Thomas Friedman (10/29/2004)
Professor Noam Chomsky, D.L. Hughley, Susan Sarandon, Pat Schroeder, Alan Simpson, Andrew Sullivan (11/5/2004)
The Third Season
Senator Joe Biden, Don Cheadle, Lesley Stahl, Tommy Thompson, Robin Williams (2/18/2005)
Jose Canseco, Tucker Carlson, Governor Mike Huckabee, Wendy Louise Pennington ( as Oscars Red Carpet Madonna), Tim Robbins, Congresswoman Stephanie Tubbs Jones, Laura Kightlinger (as a Woman in a Vioxx Ad) (2/25/2005)
Ward Churchill, Michael Faughnan, Dave Foley, Whoopi Goldberg, Bernadine Healy, Janet Reno, Jim Zulevic (as Larry Fessman) (3/4/2005)
Richard Belzer, Andrew Breitbart, Congressman Barney Frank, Irshad Manji, Camille Paglia (3/11/2005)
Jason Alexander, Thomas Frank, Governor Frank H. Murkowski, Congresswoman Ileana Ros-Lehtinen, Christine Todd Whitman (3/18/2005)
Alec Baldwin, Whoopi Goldberg, Reverend Jesse Jackson, Bill O'Reilly, Dr. Cornel West (4/1/2005)
Mario Cuomo, Arianna Huffington, Ian McShane, Richard Perle, Joe Watkins (4/8/2005)
Senator Barbara Boxer, Gen. Wesley Clark, Thomas Friedman, David Frum, Natalie Maines (4/15/2005)
Maureen Dowd, Jane Fonda, Robert Kennedy Jr., Joe Scarborough, Senator Alan Simpson, Ten Travis (4/22/2005)
Farai Chideya, Jeff Gannon, Senator Chuck Schumer, Martin Short, Lt. Governor Michael Steele, Larry Joe Campbell (4/29/2005)
Madeleine Albright, Kim Campbell, Michael McKean, Congressman Bernie Sanders, Andrew Sullivan (5/6/2005)
Charles Barkley, Senator Norm Coleman, Al Franken, Liz Marlantes, Gore Vidal, Deb Hiett (as a Concerned Mom), Chip Hormess (as her son) (5/13/2005)
Kellyanne Conway, Paul Hackett, Asa Hutchinson, Chris Rock, Phyllis Schlafly (8/19/2005)
Eve Ensler, Kinky Friedman, Mike Huckabee, Dan Savage, Cindy Sheehan (8/26/2005)
Mary Frances Berry, Anderson Cooper, Michael Eric Dyson, Stephen Schneider, Bradley Whitford, Fareed Zakaria (9/2/2005)
George Carlin, James K. Glassman, Walter Maestri, Joe Scarborough, Cynthia Tucker, Kurt Vonnegut Jr. (9/9/2005)
Joy Behar, Willie Brown, P.J. O'Rourke, Senator Chuck Schumer, Dan Senor (9/16/2005)
Congressman David Dreier, George Galloway, Christopher Hitchens, Katty Kay, Andrea Mitchell, Willie Nelson, Stephen Dean (as Chad Pennington III) (9/23/2005)
Ben Affleck, Katie Cleary (as a Model), Ann Coulter, Salman Rushdie, Andrew Sullivan, Kayla Williams (10/7/2005)
Tina Brown, Max Cleland, John Edwards, Larry Miller, Richard Pennington, Tom Wolfe (10/14/2005)
Tucker Carlson, Arianna Huffington, Spike Lee, Michel Martin, Chris Webber, Deb Hiett Connie (10/21/2005)
Richard Clarke, Billy Connolly, Nadira Hira, Tony Snow, Helen Thomas (10/28/2005)
Tom Daschle, Dr. Sanjay Gupta, Mary Robinson, Joe Scarborough, John Waters, Stacey Doss (as Takyoma, a Newsanchor) (11/4/2005)
The Fourth Season
Senator Russ Feingold, Daniel Senor, Helen Thomas, Eddie Griffin, Fred Barnes (2/17/2006)
Congresswoman Heather Wilson, Irshad Manji, Danny Glover, Gary Hart, Nicholas Kristof (2/24/2006)
Melissa Rivers, Michael Brown, Harry Anderson, Graydon Carter, Dana Priest, D.L. Hughley, Bob Baer (3/3/2006)
Pete Rose, Gloria Steinem, Larry Miller, Ramesh Ponnuru, John Burns, Laurel Marlantes (as a Young Wife), Heather Seiffert (as an Operator) (3/10/2006)
Michael Stipe, Michele Mitchell, Congresswoman Ileana Ros-Lehtinen, Richard Belzer, Lou Dobbs, Deb Hiett (as Candy Van Horne) (3/17/2006)
Michael Ware, Congressman Jack Kingston, Reza Aslan, Jason Alexander, Tavis Smiley (3/24/2006)
Jorge Ramos, Congresswoman Dana Rohrabacher, Erica Jong, Seth Green, Robert Wuhl (3/31/2006)
Ben Affleck, Cynthia McKinney, Bill Sammon, Senator Joe Biden, Kevin Phillips, Laurel Marlantes (as Bill Maher's Asst.) (4/7/2006)
Congressman Rahm Emanuel, Mort Zuckerman, Heather Higgins, Gen. Anthony Zinni, Stephen A. Smith (4/21/2006)
George Clooney, Congressman Barney Frank, Michel Martin, Ian McKellen, Victor Davis Hanson (4/28/2006)
Gen. Wesley Clark, James Gilmore, Bradley Whitford, Kim Campbell, Senator Mel Martinez (5/5/2006)
Madeleine Albright, Dr. Cornel West, Richard Clarke, John Legend, John Gibson (5/12/2006)
Spike Lee, Elvis Costello, Max Cleland, Vali Nasr, Christopher Hitchens, Markos Moulitsas (8/25/2006)
Harry Anderson, Penn Jillette, Mary Frances Berry, Congressman Darrell Issa, Fouad Ajami (9/1/2006)
Benjamin Netanyahu, P.J. O'Rourke, Joan Walsh, Rob Thomas, David Gregory, Michelle Gunn (as Lucy of NeoConnections), James Francis Ginty (as Trent), Sofia Karstens (as Sue-Ann), Mike Randleman (as Tom, a Neo.connections.com Dater) (9/8/2006)
Pat Buchanan, Michael McKean, Gloria Steinem, Clark Kent Ervin, Christiane Amanpour, Deb Hiett (as Connie) (9/15/2006)
Frank Rich, Reza Aslan, Bradley Whitford, Sandy Rios, C.C. Goldwater (9/22/2006)
Senator John Kerry, Richard Clarke, Congresswoman Ileana Ros-Lehtinen, Robin Williams, Senator Lincoln Chafee, Chris Matthews, Ralph Nader, Eleanor Holmes Norton, Grover Norquist, Kweisi , Congressman Rahm Emanuel, Congresswoman Loretta Sanchez, Congresswoman Linda Sanchez, James Gilmore, Congressman Tom Davis, Congressman Barney Frank, Ten Travis (10/6/2006)
John Danforth, Lou Dobbs, Danielle Pletka, Ben Affleck, Sir Richard Branson (10/13/2006)
Governor Bill Richardson, Congressman Barney Frank, Jason Alexander, Stephen Moore, David Kuo, Benton Jennings (as an S&M Newspaper Water Cooler Guy), Kelly McCracken (as a Republican S&M Leather Guy) (10/20/2006)
Congressman Harold Ford Jr., Andrew Sullivan, Christine Todd Whitman, Harry Belafonte, Arianna Huffington, Johanna Goldsmith (Archive Footage) (10/27/2006)
Robert Greenwald, Alec Baldwin, A.B. Stoddard, Congressman Jack Kingston, Roseanne Barr (11/3/2006)
Senator Chuck Schumer, Candy Crowley, Rainn Wilson, Salman Rushdie, Congressman Jeff Flake (11/10/2006)
Richard Dreyfuss, Norman Lear, Tom Morello, Dana Priest, Dan Rather, Deb Hiett (as the "Head-In" Woman) (11/17/2006)
The Fifth Season
John Edwards, Michael Steele, Carly Fiorina, Craig Ferguson, John Amaechi (2/16/2007)
Senator Joe Biden, Congressman Darrell Issa, Ayaan Hirsi Ali, Steven Weber, David Mamet (2/23/2007)
Mia Farrow, Congressman Barney Frank, Seymour Hersh, John Ridley, Joe Scarborough (3/2/2007)
Deepak Chopra, Paul Eaton, David Kuo, Dana Milbank, Roseanne Barr (3/9/2007)
Jason Alexander, Mike Huckabee, Martha Raddatz, Dan Rather, Chris Rock (3/16/2007)
Zbigniew Brzezinski, Shirley Franklin, David Frum, John Legend, Bernie Sanders (3/23/2007)
Madeleine Albright, Catherine Crier, D.L. Hughley, Ron Paul, Michael Smerconish (3/30/2007)
Former Senator Bill Bradley, Dana Carvey, Sheryl Crow, Laurie Lennard, Scott McClellan, Reverend Al Sharpton (4/13/2007)
Amy Holmes, Bill Moyers, John O'Sullivan, Governor Brian Schweitzer (4/20/2007)
Richard Belzer, David Iglesias, Congressman Dennis Kucinich, Lisa Schiffren, Jamie Tarabay (4/27/2007)
Harold Ford Jr., Dr. Sanjay Gupta, Sean Penn, Garry Shandling, Tommy Thompson (5/4/2007)
Richard Engel, Christopher Hitchens, Arianna Huffington, Frank Luntz, Paula Poundstone (5/11/2007)
Chris Dodd, John Fund, Loretta Sanchez, Russell Simmons, Bradley Whitford (5/18/2007)
Ben Affleck, Michael Moore, P.J. O'Rourke, Ron Paul (5/25/2007)
Damien Cave, Stephen F. Hayes, Mike Huckabee, Michel Martin, Tim Robbins (8/24/2007)
Barbara Bodine, Jasmine Dare (Archive Footage), Jesselynn Desmond (Archive Footage), Mike Gravel, John Mellencamp, Britney Morano (Archive Footage), Ingrid Newkirk, Tiffany Pollard (Archive Footage), Harry Shearer (8/31/2007)
Mos Def, Ralph Nader, Cornel West, Lawrence Wilkerson (9/7/2007)
Carl Bernstein, Drew Carey, Robert Draper, Senator Chuck Hagel, Congresswoman Janice Schakowsky (9/14/2007)
Janeane Garofalo, Bjorn Lomborg, Salman Rushdie, Michael Scheuer, Rob Thomas (9/21/2007)
Maria Bartiromo, Ken Burns, Michael Eric Dyson, Rahm Emanuel, Pete Hamill (9/28/2007)
Joy Behar, Tucker Carlson, Vicente Fox, Naomi Klein, Paul Krugman (10/12/2007)
John Edwards, Congresswoman Sheila Jackson Lee, Garry Kasparov, Chris Matthews, Joel Stein (10/19/2007)
Gen. Wesley Clark, David Frost, Kay Bailey Hutchison, Martina Navratilova, Andrew Sullivan, An Wise (as Anahn) (10/26/2007)
Martin Short, Valerie Plame, Joseph Wilson, Markos Moulitsas, Alison Stewart, Jeremy Scahill (11/2/2007)
The Sixth Season
Mark Cuban, Catherine Crier, Tony Snow, Matt Taibbi, P.J. O'Rourke (via Satellite), Catherine Crier, Mark Cuban, P.J. O'Rourke, Tony Snow, Matt Taibbi (1/11/2008)
Trace Adkins, John Fund, D.L. Hughley, Dan Savage, Fareed Zakaria (1/18/2008)
Richard Belzer, Merle Haggard, Herbie Hancock, Amy Holmes, Martha Raddatz (1/25/2008)
Kim Gandy, Congressman Darrell Issa, Frank Luntz, Clarence Page, Matt Taibbi (2/1/2008)
Bob Costas, Matthew Dowd, Jonah Goldberg, Amy Holmes, P.J. O'Rourke (2/8/2008)
Nina Hachigian, Frank Luntz, Senator Claire McCaskill, Paul Rieckhoff, Andrew Sullivan (2/15/2008)
Tom Brokaw, David Frum, Jack Kingston, Matt Taibbi (2/22/2008)
Christopher Hitchens, Edward Rendell, Dan Savage, Harry Shearer, Shashi Tharoor (2/29/2008)
Farai Chideya, Adam Goldberg, Terry McAuliffe, Jeremy Scahill, Joe Scarborough (3/7/2008)
Congressman Barney Frank, Jon Hamm, Melissa Harris-Perry, P.J. O'Rourke, Michael Ware (3/21/2008)
John Cusack, Robert Klein, Dan Savage, Tavis Smiley, Robin Wright (3/28/2008)
Robin Bain, Amy Holmes, Tamara Knausz, Barbara Lee, Esai Morales, Robert Reich, Arlen Specter (4/4/2008)
Jason Alexander, Richard Clarke, Richard Dawkins, Dana Priest, Joe Sestak (4/11/2008)
Ayaan Hirsi Ali, Chris Matthews, Markos Moulitsas, Jeremy Scahill, Cornel West (4/18/2008)
Phil Donahue, Arianna Huffington, Jeffrey Sachs, Garry Shandling, Matt Taibbi (4/25/2008)
Evan Bayh, Mayor Cory Booker, Barbara Boxer, Chevy Chase, Governor Jon Corzine, Senator Chris Dodd, Senator Dick Durbin, Craig Ferguson, Barney Frank, Governor Tim Kaine, Congressman Dennis Kucinich, Michel Martin, Patty Murray, Keith Olbermann, Bill Richardson, Senator Bernie Sanders, Matt Taibbi, Will.i.Am, Fred Armisen, Gray Davis, Matthew Modine, Loretta Sanchez, Jane Seymour, Harry Shearer, Linda Sanchez, Maxine Waters, Brian Williams (8/29/2008)
Bob Barr, Tucker Carlson, Mike Huckabee, Laura Ingraham, Scott McClellan, Congressman Ron Paul, Ron Reagan Jr., Dan Savage, Senator Arlen Specter, Michael Steele, Jeffrey Toobin, Kaylee Unverzagt, Jesse Ventura, Kerry Washington, Ron Christie, Arianna Huffington, Michael Smerconish, Tom Tancredo, Christie Todd Whitman (9/5/2008)
Paul Begala, John Fund, Janeane Garofalo, Roseanne, Salman Rushdie (9/12/2008)
Naomi Klein, Paul Krugman, Andrew Sullivan, Will.i.Am (9/19/2008)
Tim Daly, Ralph Nader, Chris Rock, Lisa Schiffren, Ron Suskind (9/26/2008)
Christiane Amanpour, Alec Baldwin, Garry Shandling, Bob Woodward (10/3/2008)
Dana Gould, Stephen Moore, Oliver Stone, David M. Walker, Congresswoman Maxine Waters (10/10/2008)
Ben Affleck, Thomas Friedman, Frank Luntz, Senator Bernie Sanders, Martin Short (10/17/2008)
Matt Dowd, Arthur Laffer, Carol Leifer, Allen Raymond, Tim Robbins (10/24/2008)
Amy Holmes, John Legend, Michael Moore, Connie Schultz, Cornel West (10/31/2008)
Paul Begala, Mayer Cory Booker, Farai Chideya, Howie Mandel, Joe Queenan (11/7/2008)
Sean "Diddy" Combs, Ashton Kutcher, Jon Meacham, Congresswoman Ileana Ros-Lehtinen, Dan Savage (11/14/2008)
The Seventh Season
Tina Brown, Chrystia Freeland, Brigitte Gabriel, Ron Paul, Maxine Waters (2/20/2009)
Alan Cumming, Gavin Newsom, P.J. O'Rourke, George Stephanopoulos, Robin Wright (2/27/2009)
Cory Booker, Erin Burnett, T. Boone Pickens, Peter Singer (3/6/2009)
Andrew Breitbart, Michael Eric Dyson, Laura Kightlinger (as Nadya Suleman), Steven Pearlstein, Sarah Silverman (3/13/2009)
Madeleine Albright, Keith Olbermann, Andrew Ross Sorkin, Bernie Sanders, Kerry Washington (3/20/2009)
Bill Bradley, Mos Def, Christopher Hitchens, Salman Rushdie (3/27/2009)
Sam Donaldson, David Frum, Carol Leifer, Reihan Salam, Joe Wurzelbacher (4/3/2009)
Ron Howard, Jay-Z, Oliver Stone, Gore Vidal (4/10/2009)
Robert Baer, Randy Cohen, Howard Dean, Dana Gould, Bethany McLean, Gino Salvano (as a Guantanamo Bay Prisoner) (4/24/2009)
Richard Engel, Congressman Barney Frank, David Kessler, Vanessa Villalovos, Juan Pablo Yepez, Fareed Zakaria (5/1/2009)
Reza Aslan, James Carville, Seth Green, Naomi Klein, Seth MacFarlane, Matt Taibbi (5/8/2009)
Richard Brookhiser, Amy Holmes, Dan Savage, David Simon, Elizabeth Warren (5/15/2009)
Maya Arulpragasam (as M.I.A.), Simon Johnson, Jon Meacham, Muhammad Yunus (5/22/2009)
John Bolton, Hill Harper, Michael Pollan, Congresswoman Heather Wilson (5/29/2009)
Paula Froelich, Richard Haass, D.L. Hughley, Matt Miller, Jeremy Scahill (6/6/2009)
Ben Jealous, Larry King, Chris Matthews, P.J. O'Rourke, Fran Townsend (6/12/2009)
Paul Begala, Katty Kay, Hooman Majd, Meghan McCain, Joel Stein (6/19/2009)
Cameron Diaz, Oliver Stone, Billy Bob Thornton (6/26/2009)
Jason Alexander, Markos Moulitsas, Joe Scarborough, Governor Brian Schweitzer, Anna Deavere Smith (7/17/2009)
Candace Brown, Susan Eisenhower, John Heilemann, Terence Bernie Hines (as Henry Louis Gates), Janet Napolitano, Matt Taibbi, Cooper Thornton, Anthony Woods (7/24/2009)
Niall Ferguson, Terence Bernie Hines (as Henry Louis Gates), Larry Joshua, Rachel Maddow, Joe Queenan, Brenda Rippee, Jeff Sharlet, Michael Ware (7/31/2009)
Arianna Huffington, Congressman Darrell Issa, Congressman Jack Kingston, Dr. David Scheiner (8/7/2009)
Ross Douthat, Dana Gould, Ashton Kutcher, Brad Pitt, Gen. Anthony Zinni (8/14/2009)
Rachel Avery (as a Gun Toting Preschool Teacher), Sam Harris, Jay Leno, Jeremy Scahill, Congresswoman Jan Schakowsky, Chuck Todd, Cameron Castaneda (8/21/2009)
Richard Clarke, Jay-Z, Bill Moyers (9/11/2009)
Matthew Continetti, David Cross, Annette Gordon-Reed, Wendell Potter, Jeffrey Toobin (9/18/2009)
Bill Frist, Richard Belzer, Lincoln Chafee, Sarah Silverman, Paul Krugman, Michael Moore, Eliot Spitzer, John Waters, Cornel West (9/25/2009)
Richard Dawkins, Thomas Friedman, Janeane Garofalo, Lisa P. Jackson, Marcy Kaptur (10/2/2009)
Richard Belzer, Lincoln Chafee, Bill Frist, Sarah Silverman, Cornel West (10/9/2009)
Alec Baldwin, Alan Grayson, Chris Matthews, Martin O'Malley, Garry Shandling (10/16/2009)
The Eighth Season
Seth MacFarlane, Norah O'Donnell, Eliot Spitzer, Wanda Sykes, Elizabeth Warren (2/19/2010)
Adam Carolla, Chrystia Freeland, Richard Haass, Chris Rock, Reihan Salam, Olivia Wilde (2/26/2010)
Arianna Huffington, Michael Moore, Sean Penn, Andrew Ross Sorkin (3/5/2010)
Michael Bennet, Hill Harper, John Heilemann, Amy Holmes, Gary Johnson (3/12/2010)
Melinda Henneberger, Emile Hirsch, Dennis Kucinich, Steve Moore, Gavin Newsom (3/19/2010)
Jonathan Capehart, Jeff Garlin, Christopher Hitchens, Rob Thomas, Randi Weingarten (3/26/2010)
Chris Rock, Alice Waters, Billie Joe Armstrong (4/9/2010)
Lawrence Bender, Laura Flanders, Simon Johnson, David Remnick, Ryan Tresdale (as Chip), Jesse Ventura (4/16/2010)
Richard Clarke, Matthew Continetti, Susan Eisenhower, Alan Grayson, Jack Kevorkian (4/23/2010)
John Bolton, Ross Douthat, Chris Matthews, Laura D'Andrea Tyson, Anthony Weiner (4/30/2010)
Alan Brinkley, David Frum, Alexis Glick, Salman Rushdie, Sarah Silverman (5/7/2010)
John Avlon, Cory Booker, S.E. Cupp, Darrell Issa, Sebastian Junger (5/14/2010)
Ayaan Hirsi Ali, Michael Eric Dyson, John Fund, Patton Oswalt, Nouriel Roubini (5/21/2010)
Jonathan Alter, Philippe Cousteau II, Patrick Ruffini, Scott Turow, Cornel West (5/28/2010)
Judd Apatow, Paul Begala, Van Jones, Andrew Sullivan, Katrina vanden Heuvel (6/4/2010)
Bill Frist, Rachel Maddow, Jon Meacham, Queen Noor, Oliver Stone (6/11/2010)
Jon Hamm, Mark McKinnon, Michael Moore, Martha Raddatz, Robert Reich (9/17/2010)
Alex Borstein (as Christine O'Donnell), Andrew Breitbart, David Cross, Ann Druyan, Amy Holmes, Arianna Huffington, Joe Klein, Seth MacFarlane, Richard Tillman, Cornel West, Bob Woodward (9/24/2010)
S.E. Cupp, Richard Dawkins, P.J. O'Rourke, Andrew Ross Sorkin (10/8/2010)
George Clooney, Levi Johnston, John Legend, Dana Loesch, Markos Moulitsas, Dan Neil, Rob Reiner, Al Sharpton, Jake Tapper, Nicolle Wallace (10/15/2010)
Guests Unknown (10/22/2010)
Jimmy Carter, Zach Galifianakis, Margaret Hoover, Lawrence O'Donnell, Reihan Salam (10/29/2010)
Adrian M. Fenty, Dana Gould, Darrell Issa, Bill O'Reilly, Fareed Zakaria (11/5/2010)
Nora Ephron, Mike Huckabee, Michael Moore, Joe Sestak, Jessica Yellin (11/12/2010)
The Ninth Season
James Carville, Chrystia Freeland, Mike Murphy, Martin Short, Elizabeth Warren (1/14/2011)
Michael Hastings, Rachel Maddow, Steve Moore, Russell Simmons, David Stockman (1/21/2011)
Will Cain, Kim Campbell, D.L. Hughley, Jack Kingston, Michael Steele (1/28/2011)
Mona Eltahawy, Charles Ferguson, John Fund, Neil deGrasse Tyson, Anthony Weiner (2/4/2011)
Arianna Huffington, Hooman Majd, Norah O'Donnell, Matthew Perry, Cornel West (2/11/2011)
Michelle Caruso-Cabrera, John Heilemann, Tavis Smiley, Kevin Smith, Matt Taibbi (2/18/2011)
T. Coraghessan Boyle, Ezra Klein, Gavin Newsom, Gloria Steinem, Tracey Ullman (3/4/2011)
Paul Begala, Tom Davis, Keith Ellison, Bill T. Jones, Dana Loesch (3/11/2011)
Richard Belzer, Annabelle Gurwitch, Dan Neil, Michael Oren, Erica Williams (3/18/2011)
David Brooks, Tina Brown, Ellen Page, Edward Rendell, Jeremy Scahill (3/25/2011)
Randy Cohen, Doug Heye, Bernie Sanders, Julian Schnabel, Tim Shriver (4/1/2011)
Katty Kay, Colin Quinn, Eliot Spitzer, Chesley Sullenberger, Andrew Sullivan (4/8/2011)
Michio Kaku, Irshad Manji, Ed Schultz, Michael Steele, Amy Walter (4/15/2011)
Andrew Breitbart, Laura Flanders, Mark McKinnon, Deval Patrick, John Waters (4/29/2011)
Guests Unknown (5/6/2011)
Michelle Bernard, Richard Clarke, Andrew Ross Sorkin, Reihan Salam, Harry Shearer (5/13/2011)
Reza Aslan, Amy Chua, Zach Galifianakis, Dylan Ratigan, Gillian Tett (5/20/2011)
Shaun Donovan, Melissa Harris-Perry, Larry King, Rick Lazio, Adam McKay (6/3/2011)
Janeane Garofalo, Joshua Green, Jane Harman, Jane Lynch, Sharon Waxman (6/10/2011)
Ross Douthat, Gretchen Hamel, Raymond Kurzweil, Chris Matthews, Kevin Nealon (6/17/2011)
Reggie Brown (as Barack Obama), David Carr, Susan del Percio, Richard Engel, Alexandra Pelosi, Michael Smerconish (6/24/2011)
Chaz Bono, Ann Coulter, Amanda Foreman, Chris Hayes, Ethan Nadelmann (7/5/2011)
T. Colin Campbell, Mark Cuban, Chrystia Freeland, Marc Maron, Dan Savage (7/15/2011)
Donna Brazile, John Fetterman, Nick Gillespie, Martin Lewis, John Turturro (7/22/2011)
Bryan Cranston, Margaret Hoover, Matt Kibbe, Harry Markopolos, Eliot Spitzer (7/29/2011)
Stephen K. Bannon, Anthony Bourdain, Christina Romer, Professor Neil deGrasse Tyson, Joan Walsh (8/5/2011)
Louis C.K., Jennifer Donahue, Dexter Filkins, Rich Galen, Keith Olbermann (9/16/2011)
John Avlon, Jane Harman, Michael Moore, Tom Morello, Ron Suskind (9/23/2011)
Jennifer Granholm, Van Jones, Seth MacFarlane, Dana Priest, Salman Rushdie (9/30/2011)
Jonathan Franzen, Alan Grayson, P.J. O'Rourke, Rich Trumka, Nicolle Wallace (10/7/2011)
Michelle Caruso-Cabrera, John Fund, Thom Hartmann, Robert Jeffress, Penn Jillette (10/14/2011)
Thomas Friedman, Joshua Green, Lisa P. Jackson, Rachel Maddow, Toure (10/21/2011)
Ron Christie, Michelle Goldberg, Grover Norquist, Michael Ware, Cornel West (10/28/2011)
Beau Biden, Bill Engvall, Darrell Issa, David Paterson, Alex Wagner (11/4/2011)
Common, Keith Ellison, Barney Frank, Chris Matthews, Andrew Sullivan (11/11/2011)
The Tenth Season
Herman Cain, David Frum, Alexandra Pelosi, Rob Reiner, Deborah Wasserman Schultz (1/13/2012)
Jennifer Granholm, Matt Lewis, Bill Moyers, Buddy Roemer, Bernie Sanders (1/20/2012)
Martin Bashir, Mario Batali, Mark Foley, Lisa Kennedy Montgomery, Dana Rohrabacher (1/27/2012)
Mike Daisey, Michael Hastings, Rick Lazio, Wes Moore, Suze Orman (2/3/2012)
Zanny Minton Beddoes, Peter Galbraith, Mo Rocca, Reihan Salam, Al Sharpton (2/10/2012)
Erin McPike, Steve Moore, Drew Pinsky, Eliot Spitzer, Alexandra Wentworth (2/17/2012)
Guests Unknown (2/24/2012)
James Carville, Russ Feingold, John Heilemann, Bob Lutz, Neil deGrasse Tyson (3/2/2012)
Catherine Crier, Jon Hamm, Michael Oren, Alexandra Pelosi, Michael Steele, Andy Stern (3/9/2012)
George Carlin (Archive Footage), Mayor Mick Cornett, Ed Helms, Amy Holmes, Alexandra Pelosi, Dylan Ratigan, Governor Mitt Romney (Archive Footage) (3/16/2012)
Fred Armisen, Charles M. Blow, Glenn Greenwald, Wendy Schiller, Andrew Sullivan (3/22/2012)
Ezekiel Emanuel, Rich Galen, Van Jones, Elise Jordan, Matthew Weiner (3/29/2012)
Kim Campbell, Matthew Continetti, Eric Klinenberg, Tavis Smiley, David Stockman (4/13/2012)
Todd Buchholz, Ross Douthat, Thomas Frank, Chrystia Freeland, Lynn Henning, Alexandra Pelosi (Voice) (4/20/2012)
Paul Begala, S.E. Cupp, Charles Alan Murray, Paul Rieckhoff, Andrew Ross Sorkin (4/27/2012)
Kate Beckinsale, Joe Biden, Bay Buchanan, Susan del Percio, Bobcat Goldthwait, Judy Greer, Arsenio Hall, Tom McClintock, Dennis Miller, Larry Miller, Andrea Savage, Ed Schultz, Lawrence Wilkerson (8/29/2003)
Richard Clarke, Margaret Hoover, David Cay Johnston, Eva Longoria, Grover Norquist (5/11/2012)
Bill Bradley, Michelle Caruso-Cabrera, Dan Rather, Jeremy Scahill, Joel Stein (5/18/2012)
Michelle Bernard, Jeffrey Gettleman, Paul Krugman, Arthur Laffer, Kevin Nealon (5/25/2012)
Guests Unknown (6/1/2012)
Susan Burke, E.J. Dionne Jr., Michael Brendan Dougherty, Dambisa Moyo, John Waters (6/8/2012)
Karen Finney, David Frum, Joseph Stiglitz, Alan Thicke (6/15/2012)
Kirk Douglas, Nick Gillespie, Rachel Maddow, Mark Ruffalo, Mort Zuckerman (6/22/2012)
Jack Abramoff, Amy Goodman, Gavin Newsom, Lizz Winstead, Fareed Zakaria (6/29/2012)
Mark Cuban, Reihan Salam, Alex Wagner, Chelsea Handler (8/17/2012)
Arianna Huffington, Avik Roy, Katty Kay, Congressman Jack Kingston, D.L. Hughley (8/24/2012)
Jason Alexander, Ron Christie, Soledad O'Brien, Dinesh D'Souza, Walter Kim (8/31/2012)
Christine O'Donnell, David Simon, Steve Schmidt, Jim VandeHei, Katrina vanden Heuvel (9/7/2012)
John Legend, Bob Costas, John Feehery, Chris Hayes, Zanny Minton Beddoes (9/14/2012)
Rana Foroohar, Roger Hedgecock, Chris Matthews, Eugene Jarecki, Salman Rushdie (9/21/2012)
Will Cain, former Congressman Mark Foley, Kerry Washington, Frank Luntz, Bill McKibben (10/5/2012)
Ben Affleck, Congressman Darrell Issa, Governor Brian Schweitzer, Sheila Bair, Ann Coulter (10/12/2012)
Boris Epshteyn, John Fund, Goldie Taylor, Gary Hirshberg, Matt Taibbi (10/19/2012)
Chrystia Freeland, Former Governor Eliot Spitzer, Michael Steele; Congressman Barney Frank, Nate Silver (10/26/2012)
Margaret Hoover, Former Congressman Rick Lazio, Rob Reiner, Matthew Segal, James Balog (11/2/2012)
James Carville, S.E. Cupp, Andrew Sullivan, Samuel L. Jackson (11/9/2012)
David Frum, Michael Moore, Ana Navarro, Eric Idle (11/16/2012)
The Eleventh Season
Michelle Caruso-Cabrera, Rula Jebreal, Bob Kerrey, Steve LaTourette, Martin Short (1/18/2013)
David Avella, Howard Dean, Nancy Pelosi, Kristen Soltis, Jon Tester (1/25/2013)
Alex Gibney, Sam Harris, Cory Booker, Jackie Kucinich, Eva Longoria (2/1/2013)
Julian Assange, Tina Brown, Josh Barro, Martin Bashir, Lawrence Krauss (2/8/2013)
Robert Zimmerman, Joel McHale, Donna Brazile, Jon Meacham, Jamie Weinstein (2/15/2013)
Gavin Newsom, Steve Schmidt, Monica Mehta, Snoop Lion (Formerly Snoop Dog), James Lyne, Bishop Don Magic Juan (3/1/2013)
Charlie LeDuff, David Cross, Arianna Huffington, Avik Roy, Michael Steele (3/8/2013)
Michelle Rhee, Jared Bernstein, Tom Davis, Rachel Maddow, Tom Collichio (3/15/2013)
Austan Goolsbee, Clive Davis, John Feehery, Maria Teresa Kumar, Jim McGreevey (3/22/2013)
Sebastian Junger, Zack Kopplin, Abby Huntsman, Steve Moore, Senator Bernie Sanders (4/5/2013)
Peter Byck, David Stockman, Bob Costas, Stephanie Cutter Saru Jayaraman (4/12/2013)
Brian Levin, Dan Neil, Amy Holmes, Nicholas Kristof, Salman Rushdie (4/19/2013)
Don Borelli, John Avlon, Robert Traynham, Anna Deavere Smith, Jimmy Kimmel (4/26/2013)
Jeremy Scahill, Kal Penn, Mattie Duppler, Pete Hegseth, Lawrence O'Donnell (5/3/2013)
Mark Bittman, Charles Cooke, Glenn Greenwald, Joy Reid, Zachary Quinto (5/10/2013)
Richard Haass, S.E. Cupp, Michael Moore, Andrew Ross Sorkin, Zach Galifianakis (5/17/2013)
Brit Marling, Paul Rudnick, Neera Tanden, Michael Isikoff, James Poulos (5/31/2013)
Tom Shadyac, George Packer, Ana Navarro, Dana Gould, Kevin Williamson (6/7/2013)
Patrick J. Kennedy, Jonathan Alter, Josh Fox, Niall Ferguson, Kellyanne Conway (6/14/2013)
Haifaa Al Mansour, Michael Pollan, Joshua Green, Bob Herbert, Julia Reed (6/21/2013)
Anthony Leiserowitz, Adrian Grenier, Horace Cooper, Dan Neil, Kristen Soltis (6/28/2013)
Cornel West, Mike Rowe, Liz Mair, Matt Lewis (7/12/2013)
Connie Mack IV, Dan Savage, Grover Norquist, Rula Jebreal (7/19/2013)
Bob Ney, Reza Aslan, Jim Wallis, Eliot Spitzer, Sarah Slamen (7/26/2013)
Jay-Z, Barney Frank, Larry Miller, Josh Barro, Alexis Goldstein (8/2/2013)
Bill Nye, Michael Steele, Zanny Minton-Beddoes (9/13/2013)
Billy Crystal, Joy Behar, Chris Hayes, David Frum, Jeremy Seifert (9/20/2013)
Tim Robbins, Robert Reich, Matt Welch, Monica Mehta, Carl Hart (9/27/2013)
Ezekiel Emanuel, Alan Grayson, Suzy Khimm, Matt Kibbe, Carl Reiner (10/4/2013)
Jim Glassman, Chris Matthews, Carol Roth, Oliver Stone (10/11/2013)
Maajid Nawaz, Richard Dawkins, Michael Moore, Valerie Plame, Al Sharpton (10/25/2013)
Ann Coulter, Rob Lowe, Rob Reiner, Neil deGrasse Tyson, Debbie Wasserman Schultz (11/1/2013)
William Binney, Anthony Weiner, David Avella, Victoria DeFrancesco Soto, John Heilemann (11/8/2013)
Radley Balko, Casey Affleck, Mattie Duppler, Ezra Klein, Reihan Salam (11/15/2013)
Dan Savage, Wendell Pierce, Paul Begala, Bob Ehrlich, Katty Kay (11/22/2013)
The Twelfth Season
Glenn Greenwald, Steve Schmidt, Jennifer Granholm, James Carville, Mary Matalin (1/17/2014)
Erin Brockovich, Josh Barro, Howard Dean, Carly Fiorina, Willie Nelson (1/24/2014)
Darrell Issa, John Ridley, Chrystia Freeland, Ronan Farrow (1/31/2014)
Charlie Crist, Tom Colicchio, Alicia Menendez, S. E. Cupp, P. J. O'Rourke (2/7/2014)
Jeremy Scahill, Andrew Sullivan, Mayim Bialik, Eric Klinenberg (2/14/2014)
Michelle Alexander, Charles Cooke, Jane Harman, Rachel Maddow, Steve Coogan (2/21/2014)
Bruce Dern, William Kristol, Austan Goolsbee, Margaret Hoover (2/28/2014)
Seth MacFarlane, Salman Rushdie, Andrew Sullivan, Amy Chua (3/14/2014)
Errol Morris, Simon Schama, Sheila Bair, Keith Ellison, Shane Smith (3/21/2014)
Jimmy Carter, Josh Gad, W. Kamau Bell, Neera Tanden, Rick Lazio (3/28/2014)
Nas, Alex Wagner, Thomas M. Davis, Carrie Sheffield (4/4/2014)
Rob Lowe, Duncan Hunter, Ana Marie Cox, Matt Taibbi (4/11/2014)
Thank you for visiting our Real Time With Bill Maher page!
Copyright © 1997-2014 CrazyAboutTV.com
All rights reserved