TV Show Trivia, Episode
Lists, Descriptions,
& Cast Photos!


Action TV Shows
Home
---

NOTE: Lists compiled by
date 1st episode aired:

40s TV Shows
---

TV Shows on Dvd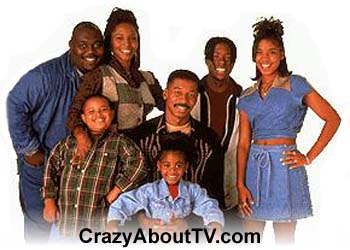 Series Description
The Parent 'Hood TV show was a 30 minute comedy series on The WB Network (now the CW Network) about a family that consisted of a college professor dad, a mom attending law school, and four kids. They plots were typical of a family comedy series, centering on the relationships of family members and friends.
Parent 'Hood Cast
Robert Townsend .............. Robert Peterson
Suzzanne Douglas ............. Jerri Peterson
Reagan Gomez-Preston ......... Zaria Peterson
Kenny Blank .................. Michael Peterson
Fazion Love .................. Wendall Wilcox
Curtis Williams .............. Nicholas Peterson
Ashli Adams .................. CeCe Peterson

Episodes List With Original Air Dates
The First Season
Ring Around The Nosey (1/18/1995)
The Rake, The Fake, And The Gopher Snake (1/25/1995)
Pizza Man (2/1/1995)
Crappy Anniversary (2/8/1995)
Like Father, Like Hell (2/15/1995)
The Paw That Rocks The Cradle (2/22/1995)
I.Q. U.Q We All Q (3/1/1995)
Byte Me (3/15/1995)
Trial By Jerri (3/22/1995)
Don't Be Alarmed (3/29/1995)
Nice Guys Finish Lust (5/3/1995)
The Bully Pulpit (5/10/1995)
Trust A Move (5/17/1995)
The Second Season
Robert In The 'Hood (9/6/1995)
A Kiss Is Just A Kiss (9/13/1995)
Don't Take My Wife, Please (9/20/1995)
Track Dreams (9/27/1995)
Wendell And Muriel's Wedding (10/4/1995)
Papa Was A Rolling Stone (10/11/1995)
The Taxi Man (10/25/1995)
Welcome Back, Robert (11/15/1995)
Not With My Daughter (11/22/1995)
Just Say Yes, No, Or Maybe (11/29/1995)
The Man Who canceled Christmas (12/20/1995)
One Man And A Baby (1/10/1996)
Little Bitty Pretty One (1/31/1996)
Substitute's Pet (2/7/1996)
The Lost Weekend (2/14/1996)
I'm O-Tay, You're O-Tay (2/21/1996)
Torn Between Two Brothers (2/28/1996)
An American Class President (3/13/1996)
We Don't Need Another Hero (4/21/1996)
I Never Danced For My Mother (5/1/1996)
Ode To Billy Stankbreath (5/8/1996)
Reconcilable Differences (5/15/1996)
The Third Season
The Critic (9/8/1996)
Our Gang (9/15/1996)
Love, African-American Style (9/29/1996)
Inspiration (10/6/1996)
Labor Daze (10/13/1996)
Clothes Call (10/20/1996)
Nick The Brick (11/3/1996)
Chimney Boy (11/10/1996)
Goodfella (11/17/1996)
The Parade-y Bunch (1/24/1996)
Fight The Power (12/8/1996)
Baby Oprah (1/12/1997)
Home Loan (1/19/1997)
A Star Is Torn (2/2/1997)
Nick The Player (2/9/1997)
Double Date (2/16/1997)
Tango & Cash (2/23/1997)
When Robert Met Jerri (3/2/1997)
The Fourth Season
House Arrest (9/7/1997)
Curfew-sion (9/14/1997)
No Soul On Ice (9/21/1997)
Beauty Call (9/28/1997)
Wendell & I Spy (10/5/1997)
Father Wendell (10/12/1997)
Zaria Peterson's Day Off (10/26/1997)
The Play's The Thing (11/2/1997)
Don't Go There (11/9/1997)
Fast Cash (11/16/1997)
Bad Rap (11/23/1997)
Me And Ms. Robinson (12/7/1997)
Money Shot (1/11/1998)
Stand By Boo (1/18/1998)
A Sister Scorned (2/1/1998)
Flaked Out (2/8/1998)
Color Him Father (2/15/1998)
I Want My Z-TV (2/22/1998)
An Affair To Forget (3/1/1998)
Hurricane Linda (4/26/1998)
Here Comes Z Bride (5/3/1998)
'Hood Sweet 'Hood - Part 1 (5/17/1998)
The Fifth Season
'Hood Sweet 'Hood - Part 2 (5/30/1999)
Front Window (6/6/1999)
Talkin' Trash (6/13/1999)
Poco-No-No (6/20/1999)
Old Men Can't Jump (7/4/1999)
To Kiss Or Not To Kiss (7/11/1999)
Something About Queenie (7/18/1999)
Wedding Bell Blues (7/25/1999)
Thank you for visiting our Parent 'Hood TV show page!
Copyright © 1997-2014 CrazyAboutTV.com
All rights reserved