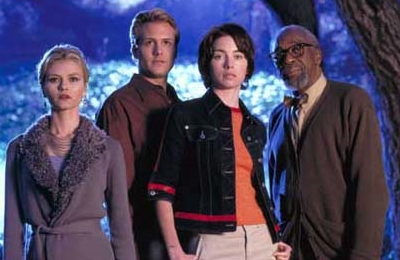 Series Description
The Others TV show was a 60 minute fantasy/horror series on NBC about a group of people called "The Others" who were able to see things such as ghosts, past occurrences, etc.
The Others Cast
Julianne Nicholson .... Marian Kitt
Gabriel Macht .... Mark Gabriel
Kevin J. O'Connor .... Warren Day
John Billingsley .... Miles Ballard
Melissa Crider .... Satori
Bill Cobbs .... Elmer Greentree
John Aylward .... Albert
Episodes List With Original Air Dates
The Others - The First And Only Season
Pilot Episode (2/5/2000)
Unnamed (2/12/2000)
Eyes (2/19/2000)
Souls On Board (2/26/2000)
1112 (3/4/2000)
Luciferous (3/11/2000)
Theta (3/18/2000)
Don't Dream It's Over (3/25/2000)
The Ones That Lie in Wait (4/22/2000)
'Til Then (4/29/2000)
$4.95 A Minute (5/6/2000)
Life Is For The Living (5/13/2000)
Mora (6/10/2000)
Find Your Favorite Shows From Our List Of Thousands!
Thank you for visiting our The Others TV show page!
Copyright © 1997-Present CrazyAboutTV.com
All rights reserved