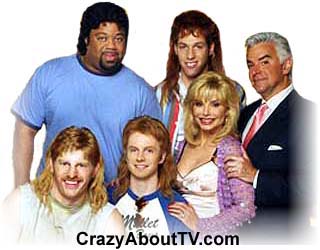 Series Description
The Mullets TV show was a 30 minute comedy series on UPN (now the CW Network) about two brothers who co-owned a contracting business.
The Mullets Cast
Michael Weaver .... Dwayne Mullet
Loni Anderson .... Mandi Mullet-Heidecker
John O'Hurley .... Roger Heidecker
David Hornsby .... Denny Mullet
The Mullets Trivia
There were three episodes of the Mullets TV Show that were produced but did not originally air after The Mullets was canceled. Their titles were:
Airway to Heaven
Sweeeet Emotion
Roger Gone Wild

Episodes List With Original Air Dates
The First And Only Season

Pilot Episode Smackdown (9/11/2003)
Love Freakin' Story (9/16/2003)
Raging Waters (9/23/2003)
Touched by a Mullet (9/30/2003)
Grudge Match (10/7/2003)
Smoke on the Water (10/14/2003)
Losin' It (3/10/2004)
Silent But Deadly (3/17/2004)
Find Your Favorite Shows From Our List Of Thousands!
Thank you for visiting our The Mullets TV show page!
Copyright © 1997-Present CrazyAboutTV.com
All rights reserved