TV Show Trivia, Episode
Lists, Descriptions,
& Cast Photos!


Action TV Shows
Home
---

NOTE: Lists compiled by
date 1st episode aired:

40s TV Shows
---

TV Shows on Dvd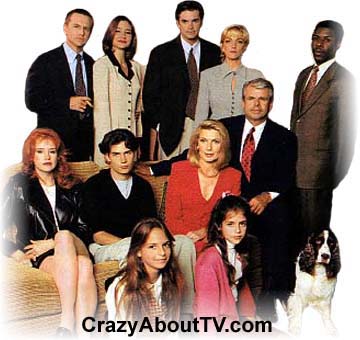 Just in case you were looking for a 1966 western series about a group of orphaned brothers and sisters, see "The Monroes (1966)".
Series Description
The Monroes TV show was a 60 minute soap opera drama series on ABC about a political family and their turbulent lives. The scripts often borrowed plot ideas from the lives of the real life Kennedy family.
The Monroes Cast
William Devane ......... John Monroe
Susan Sullivan ......... Kathryn Monroe
Lynn Clark ............. Anne Monroe
David Andrews .......... Billy Monroe
Cecil Hoffmann ......... Greer Monroe
Steven Eckholdt ........ James Monroe
Darryl Theirse ......... Michael Bradley
Tracy Griffith ......... Ruby Monroe
Tristan Tait ........... Gabriel Monroe
The Monroes Trivia
There were three episodes of the Monroes TV show that were produced but did not originally air after The Monroes was canceled. Their titles were:

Rites of Passage
Father Knows Best
The Monroe Victory Tour

Episodes List With Original Air Dates
The Monroes - The First And Only Season
Pilot Episode (9/12/1995)
Triple Cross (9/21/1995)
Educating Billy (9/28/1995)
Emission Control (10/5/1995)
Bottom's Up (10/19/1995)
Thank you for visiting our The Monroes TV show page!
Copyright © 1997-2018 CrazyAboutTV.com
All rights reserved