The Mind Of The Married Man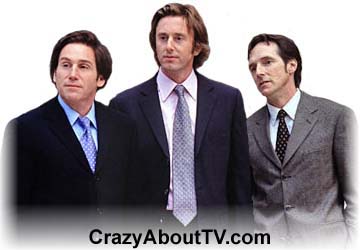 Series Description
The Mind Of The Married Man TV show was a 30 minute comedy series on HBO.
Mind Of The Married Man Cast
Mike Binder .... Micky Barnes
Jake Weber .... Jake Berman
Taylor Nichols .... Doug Nelson
M. Emmett Walsh .... Randall Evans
Sonya Walger .... Donna Barnes
Kate Walsh .... Carol Nelson
Ivana Milicevic .... Missy
Bobby Slayton .... Slayton
Doug Williams .... Kevin
Episodes List With Original Air Dates
The First And Only Season

Pilot Episode (9/23/2001)
The Secret Of The Universe (9/30/2001)
The God Of Marriage (10/7/2001)
Time On The Lake (10/14/2001)
Anywhere, Anytime (10/21/2001)
Wonderful News (10/28/2001)
Just Thinking Of You (11/4/2001)
When We Were Nice (11/11/2001)
Lay Down Dancing (11/18/2001)
Cold Splash Of Truth (11/25/2001)
Find Your Favorite Shows From Our List Of Thousands!
Thank you for visiting our The Mind Of The Married Man page!
Copyright © 1997-Present CrazyAboutTV.com
All rights reserved