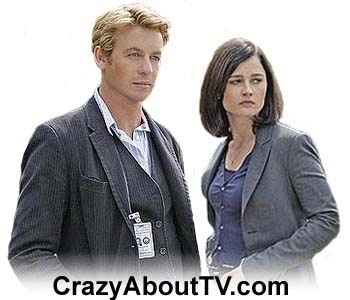 Series Description
The The Mentalist TV show is a 60 minute crime mystery/drama series on CBS about a paid consultant for the California Bureau of Investigation with an uncanny ability to see clues that other investigators don't. He also uses his knowledge in instincts of understanding how people think to tell whether or not suspects and witnesses are lying. Using those abilities and skills, he solves the most puzzling murders that the Bureau encounters.
The Mentalist Cast
Simon Baker ................. Patrick Jane
Robin Tunney ................ Teresa Lisbon
Tim Kang .................... Kendall Cho
Amanda Righetti ............. Grace Van Pelt
Owain Yeoman ................ Wayne Rigsby
The Mentalist Trivia
The Mentalist's pilot episode got a huge audience of 15.6 million when it aired on September 28, 2008. CBS decided to re-broadcast it again just three days later and it got 7.8 million to watch then! By early 2009, the Mentalist had already won the People's Choice Award fot "Favorite New TV Drama"!

Before he began working for the California Bureau of Investigation, Patrick Jane had a highly successful career as a psychic. Not only does Patrick admit that he never had any actual paranormal abilities, he also doesn't believe that anyone else has them either. His skills as a "pretend" psychic are exactly what makes him an asset to the Bureau. In order to pull off his ruse as a psychic he had to understand how people think, he had to be able to tell when people are lying, and he had to notice seemingly insignificant details that no one else sees. Even though Patrick freely admits that he never had any psychic ablilities, he's so good at what he does that many people still just can't help but believe that he's for real.

Prior to his role on the Mentalist, Simon Baker appeared on a 7 episode series titled, "Smith" with co-stars Virginia Madsen and Ray Liotta. He also starred on the much more successful series, "The Guardian" for 67 episodes!

Patrick's main motive for working with the Bureau as a mentalist is his desire to solve the murders of his wife and daughter by the evil "Red John". Patrick went on television during his career as a "psychic" and claimed that he had used his abilities to help cops identify Red John as a serial killer. Red John took out his revenge by murdering Patrick's family! That is what moved him to denounce his abilities and join the cops in bringing murderors (especially Red John) to justice.

The title of each Mentalist episode either has the word "Red" in it or it somehow relates to the color red as a reference to "Red John".

Simon Baker was nominated for an Emmy in 2009 and both a Golden Globe and a Screen Actors Guild Award in 2010 as best actor for his role as Patrick Jane.

Robin Tunney had a nice run before the Mentalist on "Prison Break"; Amanda Righetti previously starred on "North Shore" and "Reunion"; and Owain Yeoman appeared on "The Nine", "Generation Kill", and "Kitchen Confidential".

Episode #9, "Flame Red" outrated every other show on TV during the week it aired! That hadn't been done for four years by a series in its first season. "Desperate Housewives" had done it four years earlier.

Patrick Jane has stated that when someone has dilated pupils it's a sign that they've either been hypnotized or they're in shock. Every time a close-up is shown of Patrick we see that his pupils are dilated. Since it's unlikely that he's been hypnotized, we can only assume that he's still in shock over his wife and daughter's murder.
Episodes List With Original Air Dates
Season 1
Pilot Episode (9/23/2008)
Red Hair and Silver Tape (9/30/2008)
Red Tide (10/14/2008)
Ladies in Red (10/21/2008)
Redwood (10/28/2008)
Red-Handed (11/11/2008)
Seeing Red (11/18/2008)
The Thin Red Line (11/25/2008)
Flame Red (12/2/2008)
Red Brick and Ivy (12/16/2008)
Red John's Friends (1/6/2009)
Red Rum (1/13/2009)
Paint It Red (1/18/2009)
Crimson Casanova (2/10/2009)
Scarlett Fever (2/17/2009)
Bloodshot (3/17/2009)
Carnelian Inc. (3/24/2009)
Russet Potatoes (3/31/2009)
A Dozen Red Roses (4/7/2009)
Red Sauce (4/28/2009)
Miss Red (5/5/2009)
Blood Brothers (5/12/2009)
Red John's Footsteps (5/19/2009)
Season 2
Redemption (9/24/2009)
The Scarlet Letter (10/1/2009)
Red Badge (10/8/2009)
Red Menace (10/15/2009)
Red Scare (10/29/2009)
Black Gold and Red Blood (11/5/2009)
Red Bulls (11/12/2009)
His Red Right Hand (11/19/2009)
A Price Above Rubies (12/10/2009)
Throwing Fire (12/17/2009)
Rose-Colored Glasses (1/14/2010)
Bleeding Heart (1/21/2010)
Redline (2/4/2010)
Blood In, Blood Out (2/11/2010)
Red Herring (3/4/2010)
Code Red (3/11/2010)
The Red Box (4/1/2010)
Aingavite Baa (4/8/2010)
Blood Money (4/22/2010)
Red All Over (4/29/2010)
18-5-4 (5/6/2010)
Red Letter (5/13/2010)
Red Sky in the Morning (5/20/2010)
Season 3
Red Sky at Night (9/23/2010)
Cackle-Bladder Blood (9/30/2010)
The Blood on His Hands (10/7/2010)
Red Carpet Treatment (10/14/2010)
The Red Ponies (10/21/2010)
Pink Chanel Suit (10/28/2010)
Red Hot (11/4/2010)
Ball of Fire (11/11/2010)
Red Moon (11/18/2010)
Jolly Red Elf (12/9/2010)
Bloodsport (1/6/2011)
Bloodhounds (1/20/2011)
Red Alert (2/3/2011)
Blood For Blood (2/10/2011)
Red Gold (2/17/2011)
Red Queen (2/24/2011)
Bloodstream (3/10/2011)
The Red Mile (3/31/2011)
Every Rose Has Its Thorn (4/7/2011)
Redacted (4/28/2011)
Like A Redheaded Stepchild (5/5/2011)
Rhapsody in Red (5/12/2011)
Strawberries & Cream - Part 1 (5/19/2011)
Strawberries & Cream - Part 2 (5/19/2011)
Season 4
Scarlet Ribbons (9/22/2011)
Little Red Book (9/29/2011)
Pretty Red Balloon (10/6/2011)
Ring Around the Rosie (10/13/2011)
Blood and Sand (10/20/2011)
Where in the World is Carmine O'Brien (10/27/2011)
Blinking Red Light (11/3/2011)
Pink Tops (11/17/2011)
The Redshirt (12/8/2011)
Fugue in Red (12/15/2011)
Always Bet on Red (1/12/2012)
My Bloody Valentine (1/19/2012)
Red Is The New Black (2/2/2012)
At First Blush (2/9/2012)
War of the Roses (2/16/2012)
His Thoughts Were Red Thoughts (2/23/2012)
Cheap Burgundy (3/8/2012)
Ruddy Cheeks (3/9/2012)
Pink Champagne on Ice (3/29/2012)
Something's Rotten in Redmund (4/5/2012)
Ruby Slippers (4/26/2012)
So Long, and Thanks for All the Red Snapper (5/3/2012)
Red Rover, Red Rover (5/10/2012)
The Crimson Hat (5/17/2012)
Season 5
The Crimson Ticket (9/30/2012)
Devil's Cherry (10/7/2012)
Not One Red Cent (10/14/2012)
Blood Feud (10/21/2012)
Cherry Picked (10/28/2012)
Red Dawn (11/4/2012)
If It Bleeds, It Leads (11/11/2012)
Red Sails in the Sunset (11/18/2012)
Black Cherry (11/25/2012)
Panama Red (12/9/2012)
Days of Wine & Roses (1/6/2013)
Little Red Corvette (1/13/2013)
The Red Barn (1/27/2013)
Red in Tooth and Claw (2/17/2013)
Red Lacquer Nail Polish (3/3/2013)
There Will Be Blood (3/10/2013)
Red, White And Blue (3/17/2013)
Behind the Red Curtain (3/24/2013)
Red Letter Day (4/14/2013)
Red Velvet Cupcakes (4/21/2013)
Red and Itchy (4/28/2013)
Red John's Rules (5/5/2013)
Season 6
The Desert Rose (9/29/2013)
Black-Winged Red Bird (10/6/2013)
Wedding In Red (10/13/2013)
Red Listed (10/20/2013)
The Red Tattoo (10/27/2013)
Fire and Brimstone (11/10/2013)
The Great Red Dragon (11/17/2013)
Red John (11/24/2013)
My Blue Heaven (12/1/2013)
Green Thumb (12/8/2013)
White Lines (1/5/2014)
Golden Hammer (1/12/2014)
Black Helicopters (3/9/2014)
Grey Water (3/16/2014)
White As The Driven Snow (3/23/2014)
Violets (3/30/2014)
Silver Wings of Time (4/13/2014)
Forest Green (4/20/2014)
Brown Eyed Girls (4/27/2014)
Il Tavolo Bianco (5/4/2014)
Black Hearts (5/11/2014)
Blue Bird (5/18/2014)
Thank you for visiting our The Mentalist TV show page!
Copyright © 1997-2018 CrazyAboutTV.com
All rights reserved