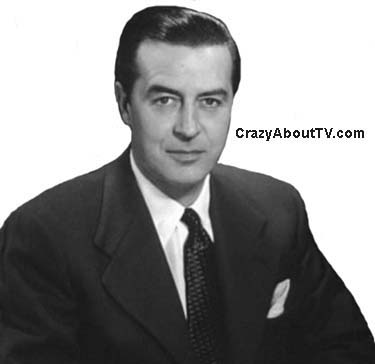 Series Description
The Meet Mr. McNutley TV show was a comedy series about a "nutty" Professor named "McNutley" who taught at an all girls school (First Season) and a co-ed school (Second Season).

Cast

Ray Milland .... Professor Ray McNutley
Phyllis Avery .... Peggy McNutley
Minerva Urecal .... Dean Josephine Bradley
Jacqueline De Wit .... Ruth Thompson
Gordon Jones .... Pete Thompson
Lloyd Corrigan .... Dean Dodsworth

Episodes List With Original Air Dates

Season 1

Meet Mister McNutley (9/17/1953)
Birthday Present (9/24/1953)
Babes In The Woods (10/1/1953)
House Party (10/8/1953)
The Faculty Dance (10/15/1953)
The Not So Speedy Boat (10/22/1953)
Father McNutley (10/29/1953)
Skylark (11/5/1953)
The Perfect Marriage (11/12/1953)
Ray Plays Cupid (11/19/1953)
Happy Anniversary (11/26/1953)
No Respect For McNutley (12/3/1953)
The New Job (12/10/1953)
Down On His Luck McNutley (12/17/1953)
The Christmas Story (12/24/1953)
New Dresses (12/31/1953)
The Checking Account (1/7/1954)
Hobbies (1/14/1954)
Helpful Hand (1/21/1954)
The Camping Trip (1/28/1954)
The New Car (2/4/1954)
Peggy's Old Flame (2/11/1954)
Dean For A Day (2/18/1954)
Ray's Other Life (2/25/1954)
The Egg And Ray (3/4/1954)
The Tree (3/11/1954)
Swimming Problem (3/18/1954)
Masquerade Ball (3/25/1954)
Ray's Promotion (4/1/1954)
Civic Improvement (4/8/1954)
Back In Uniform (4/15/1954)
School Girl Crush (4/22/1954)
Fashion Model (4/29/1954)
Adult Education (5/6/1954)
Happy Home (5/13/1954)
Peggy's Night Out (5/20/1954)
The Most Glamorous Professor (5/27/1954)
Dancing Lesson (6/3/1954)
Ray's Nephew (6/10/1954)
Vacation Days (6/17/1954)
Season 2

NOTE: Actually, this series was retitled "The Ray Milland Show" for the second season. The Professor was moved to a co-ed college and his name was changed from McNutley to McNulty.
The Professor Meets The Author (9/16/1954)
Sabrina Comes To Town (9/23/1954)
The Arrival (9/30/1954)
The Doll's House (10/7/1954)
Retirement Deferred (10/14/1954)
The Prodigy (10/21/1954)
Battle Of The Sexes (10/28/1954)
A Star Is Born (11/4/1954)
The Hangout (11/11/1954)
Stagestruck (11/18/1954)
Chinese Luck (11/25/1954)
Field Trip (12/2/1954)
The TV Story (12/9/1954)
Parlor Game (12/16/1954)
The Christmas Story (12/23/1954)
The Silver Cord (12/30/1954)
Now, Coach? (1/6/1955)
Call Me Dad (1/13/1955)
Strike It Rich (1/20/1955)
The Robbery (1/27/1955)
Family Tree (2/3/1955)
Be Bop (2/10/1955)
Mister Sargent And The Lady (2/17/1955)
Stratford On The Ozarks (2/24/1955)
Jury Duty (3/3/1955)
Tryout (3/10/1955)
The Professor Writes A Play (3/17/1955)
Reunion In Comstock (3/24/1955)
Poet And Peggy (3/31/1955)
Green Thumb (4/7/1955)
Soap Opera (4/14/1955)
International Incident (4/21/1955)
The Molehouse Collection (4/28/1955)
The Hollywood Story (5/5/1955)
A Week With Cinderella (5/12/1955)
House Guest (5/19/1955)
Find Your Favorite Shows From Our List Of Thousands!
Home Page
1940s
1950s
1960s
1970s
1980s
1990s
2000+
Action
Comedy
Drama
Fantasy/Horror
For Kids
Miniseries
Reality
Sci-Fi
Game Shows
Others
TV on Dvd
Theme Songs
TV Schedule
Spin-Offs
Privacy Policy
Thank you for visiting our Meet Mr. McNutley TV show page!
Copyright © 1997-Present CrazyAboutTV.com
All rights reserved