TV Show Trivia, Episode
Lists, Descriptions,
& Cast Photos!


Action TV Shows
Comedy TV Shows
Drama TV Shows
Fantasy & Horror
Kids TV Shows
Miniseries
Reality TV Shows
Sci-Fi TV Shows
TV Game Shows
All Others
Home
---

NOTE: Lists compiled by
date 1st episode aired:

40s TV Shows
50s TV Shows
60s TV Shows
70s TV Shows
80s TV Shows
90s TV Shows
2000s TV Shows
---

TV Shows on Dvd
TV Show Theme Songs
TV Trivia
TV Spin-Offs
TV Forums
Privacy Policy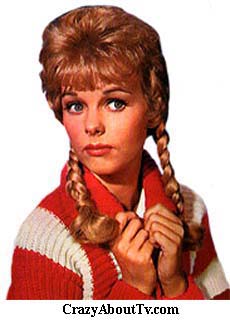 Series Description
The Margie TV show was a comedy series about a young college girl who constantly gets into trouble with friends, family and the college faculty.
Cast
Cynthia Pepper ............ Margie Clayton
Penney Parker ............. Maybelle Jackson
Wesley Tackitt ............ Nora Clayton
Hollis Irving ............. Aunt Phoebe
Tommy Ivo ................. Heywood Botts
Johnny Bangert ............ Cornell Clayton
Dave Willock .............. Harvey Clayton
Richard Gering ............ Johnny Green
Episodes List With Original Air Dates
The First And Only Season
The Vamp (9/1/1961)
Madame President (9/8/1961)
The Initiation (9/15/1961)
The Matchmaker (9/22/1961)
Pity The Poor Working Girl (9/29/1961)
Hail The Conquered Hero (10/1/1961)
The Jazz Band (10/8/1961)
County Fair (10/15/1961)
Margie, The Gossip Columnist (10/29/1961)
The New Dress (11/4/1961)
The Big Move (11/11/1961)
By The Sea (11/18/1961)
Riches To Rags (11/24/1961)
The Professional Man (1/8/1962)
Lesson In Teaching (1/22/1962)
Burning Kisses (1/29/1962)
Friendship Is For Friends (2/5/1962)
Margie, The Jinx (2/12/1962)
Margie Flies The Coop (2/26/1962)
False Alarm (3/1/1962)
Flaming Youth (3/8/1962)
A Woman Scorned (3/15/1962)
The Wolf Of Wall Street (3/22/1962)
Lady Of The House (3/29/1962)
The Dangerous Age (4/5/1962)
Whatever Mama Wants (4/12/1962)



Thank you for visiting our Margie TV show page!
Copyright © 1997-2014 CrazyAboutTV.com
All rights reserved