TV Show Trivia, Episode
Lists, Descriptions,
& Cast Photos!


Action TV Shows
Comedy TV Shows
Drama TV Shows
Fantasy & Horror
Kids TV Shows
Miniseries
Reality TV Shows
Sci-Fi TV Shows
TV Game Shows
All Others
TV Shows
---

NOTE: Lists compiled by
date 1st episode aired:

40s TV Shows
50s TV Shows
60s TV Shows
70s TV Shows
80s TV Shows
90s TV Shows
2000s TV Shows
---

TV Shows on Dvd
TV Show Theme Songs
TV Trivia
TV Spin-Offs
TV Forums
Privacy Policy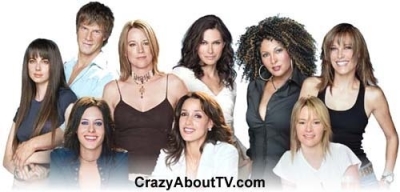 Series Description
The L Word TV show is a 60 minute romantic drama series on Showtime about the lives of a group of lesbians who live in Los Angeles. In addition to exploring their interpersonal relationships, the series also deals with the effect their sexual orientation has on their relationships with straight family members and friends.
The L Word Cast
Jennifer Beals ........... Bette Porter
Erin Daniels ............. Dana Fairbanks
Laurel Holloman .......... Tina Kennard
Pam Grier ................ Kit Porter
Mia Kirshner ............. Jenny Schecter
Leisha Hailey ............ Alice Pieszecki
Katherine Moennig ........ Shane McCutcheon
Karina Lombard ........... Marina Ferrer (2004)
Eric Mabius .............. Tim Haspel (2004)
Rachel Shelley ........... Helena Peabody (2005-)
Eric Lively .............. Mark Wayland (2005-)
Sarah Shahi .............. Carmen de la Pica Morales (2005-)
Episodes List With Original Air Dates
The First Season
Pilot Episode (1/18/2004)
Let's Do It (1/25/2004)
Longing (2/1/2004)
Lies, Lies, Lies (2/8/2004)
Lawfully (2/15/2004)
Losing It (2/22/2004)
L'Ennui (2/29/2004)
Listen Up (3/7/2004)
Luck, Next Time (3/14/2004)
Liberally (3/21/2004)
Looking Back (3/28/2004)
Locked Up (4/4/2004)
Limb from Limb (4/11/2004)
The Second Season
Life, Loss, Leaving (2/20/2005)
Lap Dance (2/27/2005)
Loneliest Number (3/6/2005)
Lynch Pin (3/13/2005)
Labyrinth (3/20/2005)
Lagrimas de Oro (3/27/2005)
Luminous (4/3/2005)
Loyal (4/10/2005)
Late, Later, Latent (4/17/2005)
Land Ahoy (4/24/2005)
Loud & Proud (5/1/2005)
L'Chaim (5/8/2005)
Lacuna (5/15/2005)
The Third Season
Labia Majora (1/8/2006)
Lost Weekend (1/15/2006)
Lobsters (1/22/2006)
Light My Fire (1/29/2006)
Lifeline (2/5/2006)
Lifesize (2/12/2006)
Lone Star (2/19/2006)
Latecomer (2/26/2006)
Lead, Follow, Or Get Out of the Way (3/5/2006)
Losing the Light (3/12/2006)
Last Dance (3/19/2006)
Left Hand of the Goddess (3/26/2006)
The Fourth Season
Legend in the Making (1/7/2007)
Livin' La Vida Loca (1/14/2007)
Lassoed (1/21/2007)
Layup (1/28/2007)
Lez Girls (2/4/2007)
Luck Be a Lady (2/11/2007)
Lesson Number One (2/18/2007)
Lexington and Concord (2/25/2007)
Lacy Lilting Lyrics (3/4/2007)
Little Boy Blue (3/11/2007)
Literary License to Kill (3/18/2007)
Long Time Coming (3/25/2007)
The Fifth Season
LGB Tease (1/6/2008)
Look Out, Here They Come! (1/13/2008)
Lady of the Lake (1/20/2008)
Let's Get This Party Started (1/27/2008)
Lookin' at You, Kid (2/3/2008)
Lights! Camera! Action! (2/10/2008)
Lesbians Gone Wild (2/17/2008)
Lay Down the Law (2/24/2008)
Liquid Heat (3/2/2008)
Lifecycle (3/9/2008)
Lunar Cycle (3/16/2008)
Loyal and True (3/23/2008)
The Sixth Season
Long Night's Journey Into Day (1/18/2009)
Least Likely (1/25/2009)
LMFAO (2/1/2009)
Leaving Los Angeles (2/8/2009)
Litmus Test (2/15/2009)
Lactose Intolerant (2/22/2009)
Last Couple Standing (3/1/2009)
Last Word (3/8/2009)
Finale (Special) (3/8/2009)
Thank you for visiting our The L Word TV show page!
Copyright © 1997-2014 CrazyAboutTV.com
All rights reserved