TV Show Trivia, Episode
Lists, Descriptions,
& Cast Photos!


Action TV Shows
Home
---

NOTE: Lists compiled by
date 1st episode aired:

40s TV Shows
---

TV Shows on Dvd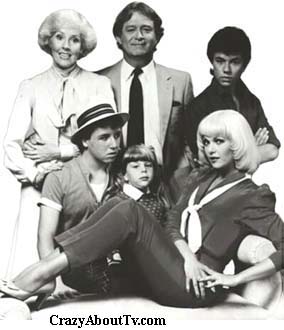 Series Description
The Jennifer Slept Here TV show was a comedy series about a family who moved from New York City to Hollywood, California. They moved into the home of a deceased movie star named Jennifer Farrell. Unfortunately, Jennifer's spirit refused to move on and her ghost still lived in the home (although only their son Joey could see her).
Cast
Ann Jillian ................ Jennifer Farrell
John P. Navin, Jr. ......... Joey Elliot
Georgia Engel .............. Susan Elliot
Mya Akerling ............... Marilyn Elliot
Brandon Maggart ............ George Elliot
Glenn Scarpelli ............ Marc
Trivia
Jennifer Farrell became a ghost when she was hit by an ice cream truck.
Episodes List With Original Air Dates
The First And Only Season
Jennifer Slept Here (10/21/1983)
Jennifer - The Movie (10/28/1983)
Not With My Date You Don't (11/4/1983)
Boo (11/11/1983)
Calendar Girl (11/18/1983)
One Of Our Jars Is Missing (11/25/1983)
Trading Faces (12/2/1983)
Rebel With A Cause (12/16/1983)
Risky Weekend (4/14/1984)
Do You Take This Ghost? (4/21/1984)
Life With Grandfather (4/28/1984)
The Tutor Who Came To Dinner (5/5/1984)
Take Jennifer, Please (5/12/1984)



Thank you for visiting our Jennifer Slept Here page!
Copyright © 1997-2018 CrazyAboutTV.com
All rights reserved