TV Show Trivia, Episode
Lists, Descriptions,
& Cast Photos!


Action TV Shows
Comedy TV Shows
Drama TV Shows
Fantasy & Horror
Kids TV Shows
Miniseries
Reality TV Shows
Sci-Fi TV Shows
TV Game Shows
All Others
TV Shows
---

NOTE: Lists compiled by
date 1st episode aired:

40s TV Shows
50s TV Shows
60s TV Shows
70s TV Shows
80s TV Shows
90s TV Shows
2000s TV Shows
---

TV Shows on Dvd
TV Show Theme Songs
TV Trivia
TV Spin-Offs
TV Forums
Privacy Policy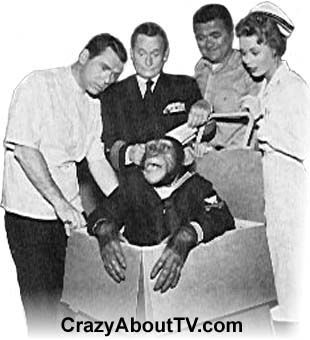 Series Description
The Hennesey TV show was a comedy series that centered around life at a Naval Hospital in San Diego, California.
Cast
Jackie Cooper ........... Charles J. "Chick" Hennesey
Abby Dalton ............. Martha Hale
Roscoe Karns ............ Captain Walter Shafer
Henry Kulky ............. Max Bronski
Meg Wyllie .............. Mrs. Shafer
James Komack ............ Harvey Spencer Blair III
Arte Johnson ............ Seaman Shatz
Herb Ellis .............. Doctor Dan Wagner
Norman Alden ............ Pulaski
Episodes List With Original Air Dates
The First Season
Hennesey (9/28/1959)
Hennesey Meets Honeyboy Jones (10/5/1959)
Hennesey Meets Harvey Spencer Blair III (10/12/1959)
Hennesey And Peyton Place (10/19/1959)
Shore Patrol (10/26/1959)
Pork Chops And Apple Sauce (11/2/1959)
Harvey Blair Returns (11/16/1959)
Hennesey Meets Mrs. Horatio Grief (11/23/1959)
Hennesey Goes Home (11/30/1959)
Hennesey And The Lady Doctor (12/7/1959)
The Baby Sitter (12/14/1959)
The Christmas Show (12/21/1959)
The Matchmaker (12/28/1959)
More Of Harvey Spencer Blair (1/4/1960)
Space Man (1/11/1960)
Hennesey Joins The Marines (1/18/1960)
Hennesey Meets Tojo (1/25/1960)
Hello, Cobra Leader (2/1/1960)
Hennesey And The Ancient Vehicle (2/8/1960)
Doctor Blair Again (2/15/1960)
The Annapolis Man (2/22/1960)
Hennesey Meets MR. Wilkins (2/29/1960)
Senior Nurse (3/14/1960)
Scarlet Woman In White (3/21/1960)
Angel Face (3/28/1960)
What Is Doctor Blair? (4/4/1960)
We're Glad It's You (4/11/1960)
Calling Doctor King (4/18/1960)
Which One Is Wagner? (4/25/1960)
Big Brother (5/2/1960)
Bonjour Mr. Hennesey (5/9/1960)
Goodbye, Doctor Blair (5/16/1960)
The Second Season
Hail To The Chief (10/3/1960)
Tell It To The Chaplain (10/10/1960)
Hennesey a la Gunn (10/17/1960)
The Marriage Of Doctor Blair (10/24/1960)
The Captain's Dilemma (10/31/1960)
Miss San Diego Navy (11/7/1960)
Hennesey And The Submarine (11/14/1960)
Come Home, Doctor Rogers (11/28/1960)
Harvey's Horse (12/5/1960)
The Underfed Fullback (12/12/1960)
The Reunion (12/26/1960)
The Hat (1/2/1961)
The Stutterer (1/9/1961)
The Promotion (1/16/1961)
The Specialist (1/23/1961)
Harvey Spencer Blair And His Electric Money Machine (1/31/1961)
Hennesey Vs. Crandall (2/6/1961)
Join The Navy, Please (2/13/1961)
The Apartment (2/20/1961)
Max Remembers Papa (2/27/1961)
The Novelist (3/6/1961)
Harvey's Doll (3/13/1961)
The Wedding (3/27/1961)
The Green-Eyed Monster (4/3/1961)
Admiral And Son (4/10/1961)
The Nogoodnick (4/17/1961)
Harvey's Pad (4/24/1961)
The Patient Vanishes (5/1/1961)
Shore Patrol Revisited (5/8/1961)
A Star Is Born (5/15/1961)
His Honor, Doctor Blair (5/22/1961)
The Signover (5/29/1961)
The Third Season
The Gossip-Go-Round (9/25/1961)
The Holdout (10/2/1961)
Welcome Home, Doctor Blair (10/9/1961)
The Cohen Mutiny (10/16/1961)
My Daughter, The Nurse (10/23/1961)
Aunt Sarah (10/30/1961)
Get Me Cyde Dingle (11/13/1961)
Professional Sailor (11/20/1961)
Aloha, Doctor Hennesey (11/27/1961)
Remember Pearl Harbor? (12/4/1961)
The Sightseers (12/11/1961)
Going Home (12/18/1961)
Santa Hits Harvey (12/25/1961)
The Man In The Crow's Nest (1/1/1962)
Hysteresis Synchronous Can Be Fun (1/8/1962)
Harvey And The Ring (1/15/1962)
Little Girl (1/22/1962)
Tight Quarters (1/29/1962)
Close Enough For Jazz (2/5/1962)
Patti's Tune (2/12/1962)
The Hobby (2/19/1962)
Harvey's Pills (2/26/1962)
The Bicep Caper (3/5/1962)
The Old Pro (3/12/1962)
Big Bertha (3/19/1962)
Buttons And Bones (3/26/1962)
No Down Payment (4/2/1962)
The Best Man (4/9/1962)
Calling Doctor Good-Deed (4/16/1962)
Hennesey Meets Soupy Sales (4/23/1962)
Martha (4/30/1962)
I Thee Wed (5/7/1962)
Thank you for visiting our Hennesey TV show page!
Copyright © 1997-2014 CrazyAboutTV.com
All rights reserved