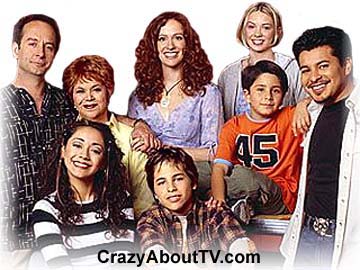 Series Description
The Greetings From Tucson TV show was a 30 minute comedy series that aired on the WB Network (now the CW Network) about life in a ethnically diverse family as seen through the eyes of a 15-year-old boy. His father was of Mexican-American heritage and his mother was Irish-American.
Greetings From Tucson Cast
Pablo Santos .... David Tiant
Julio Oscar Mechoso .... Joaquin Tiant
Rebecca Creskoff .... Elizabeth Tiant
Sara Paxton .... Sarah Tobin
Jacob Vargas .... Ernesto Tiant
Lupe Ontiveros .... Magdalena Tiant
Aimee Garcia .... Maria Tiant
Bobby Chavez .... Daniel Tiant
Trivia
Greetings From Tucson was based on the real life childhood of the series' creator, Peter Murrieta.
Prior to deciding on the title, "Greetings From Tucson", this series was to be called "This Time" and "Just Like You".
Episodes List With Original Air Dates
The First And Only Season

Pilot Episode (9/20/2002)
My Two Padres (9/27/2002)
Driving (10/4/2002)
Work Ethic (10/11/2002)
Popularity (10/18/2002)
Spiteful Dating (11/1/2002)
Working Mothers of America (11/8/2002)
Strike (11/22/2002)
Christmas (12/13/2002)
Ball and Chain (1/10/2003)
A Brand New Car (1/17/2003)
Counseling (1/24/2003)
Family Honor (1/31/2003)
Maria's Boyfriend (2/7/2003)
Student Council (2/14/2003)
Coffee (2/21/2003)
Breakup (4/4/2003)
Home Sweet Home (4/11/2003)
My Friend Mom (4/18/2003)
The First Time (4/25/2003)
Sibling Rivalry (5/2/2003)
Eegee's vs. Hardee's (5/9/2003)
Find Your Favorite Shows From Our List Of Thousands!
Thank you for visiting our Greetings From Tucson page!
Copyright © 1997-Present CrazyAboutTV.com
All rights reserved