TV Show Trivia, Episode
Lists, Descriptions,
& Cast Photos!


Action TV Shows
Comedy TV Shows
Drama TV Shows
Fantasy & Horror
Kids TV Shows
Miniseries
Reality TV Shows
Sci-Fi TV Shows
TV Game Shows
All Others
TV Shows
---

NOTE: Lists compiled by
date 1st episode aired:

40s TV Shows
50s TV Shows
60s TV Shows
70s TV Shows
80s TV Shows
90s TV Shows
2000s TV Shows
---

TV Shows on Dvd
TV Show Theme Songs
TV Trivia
TV Spin-Offs
TV Forums
Privacy Policy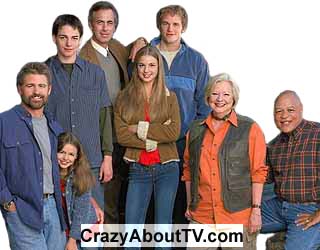 Series Description
The Everwood TV show was a 60 minute drama series on the WB Network (later becoming the CW Network about a brain surgeon who realizes that he doesn't know his children very well after his wife dies. In order to correct the situation, he moves his family from Manhattan to a more family friendly home in Everwood, Colorado.
Everwood Cast
Treat Williams ......... Doctor Andrew 'Andy' Brown
Gregory Smith .......... Ephram Brown
Emily VanCamp .......... Amy Abbott
Debra Mooney ........... Edna Abbott Harper
Vivien Cardone ......... Delia Brown
John Beasley ........... Irv Harper
Stephanie Niznik ....... Nina Feeney
Chris Pratt ............ Bright Abbott
Tom Amandes ............ Dr. Harold Abbott
Merrilyn Gann .......... Mayor Rose Abbott
Episodes List With Original Air Dates
The First Season
Pilot Episode (9/16/2002)
The Great Doctor Brown (9/23/2002)
Friendly Fire (9/30/2002)
The Kissing Bridge (10/7/2002)
Deer God (10/14/2002)
The Doctor Is In (10/21/2002)
We Hold These Truths (10/28/2002)
Till Death Do Us Part (11/4/2002)
Turf Wars (11/11/2002)
Is There a Doctor in the House? (11/18/2002)
A Thanksgiving Tale (11/25/2002)
Vegetative State (1/6/2003)
The Price of Fame (1/20/2003)
Colin the Second (1/27/2003)
Snow Job (2/3/2003)
My Funny Valentine (2/10/2003)
Everwood, Confidential (2/17/2003)
The Unveiling (2/24/2003)
The Miracle of Everwood (4/21/2003)
Moonlight Sonata (4/28/2003)
Episode 20 (5/5/2003)
Fear Itself (5/12/2003)
Home (5/19/2003)
The Second Season
The Last of Summer (9/15/2003)
Extra Ordinary (9/22/2003)
My Brother's Keeper (9/29/2003)
East Meets West (10/6/2003)
Daddy's Little Girl (10/13/2003)
Blind Faith (10/20/2003)
Three Miners From Everwood (11/03/2003)
The Burden of Truth (11/10/2003)
Just Like in the Movies (11/17/2003)
Unhappy Holidays (11/24/2003)
Family Dynamics (1/19/2004)
Controlling Interest (1/26/2004)
Forget Me Not (2/2/2004)
No Sure Thing (2/9/2004)
The L Word (2/16/2004)
Unspoken Truths (2/23/2004)
Unfinished Business (4/5/2004)
Last Looks (4/12/2004)
Sick (4/19/2004)
Do or Die (4/26/2004)
Your Future Awaits (53/2004)
The Day Is Done (5/10/2004)
The Third Season
For Every Action... (9/13/2004)
...There is a Reaction (9/20/2004)
Staking Claim (9/27/2004)
The Birds & the Batteries (10/4/2004)
Sacrifice (10/11/2004)
Shoot the Moon (10/25/2004)
Best Laid Plans (11/1/2004)
The Tipping Point (11/15/2004)
The Reflex (11/22/2004)
Need to Know (11/29/2004)
Complex Guilt (1/17/2005)
Giving Up the Girl (1/24/2005)
The Perfect Day (1/31/2005)
Since You've Been Gone (2/7/2005)
Surprise (2/14/2005)
A Moment in Manhattan (2/21/2005)
Fate Accomplis (4/18/2005)
Fallout (4/25/2005)
Acceptance (5/2/2005)
He Who Hesitates (5/9/2005)
Oh The Places You'll Go (5/16/2005)
Where the Heart Is (5/23/2005)
The Fourth Season
A Kiss to Build a Dream On (9/29/2005)
The Next Step (10/6/2005)
Put On A Happy Face (10/13/2005)
Pieces of Me (10/20/2005)
Connect Four (10/27/2005)
Free Fall (11/3/2005)
Pro Choice (11/10/2005)
So Long, Farewell... (11/17/2005)
Getting to Know You (12/8/2005)
Ghosts (3/27/2006)
Lost and Found (3/27/2006)
You're a Good Man, Andy Brown (4/3/2006)
An Ounce of Prevention (4/10/2006)
Across the Lines (4/17/2006)
The Land of Confusion (4/24/2006)
Truth... (5/1/2006)
All the Lonely People (5/8/2006)
Enjoy the Ride (5/15/2006)
Reckoning (5/22/2006)
Goodbye, Love (5/29/2006)
Foreverwood - Part 1 (6/5/2006)
Foreverwood - Part 2 (6/5/2006)
TV Specials
In Search Of Everwood (9/7/2004)

Thank you for visiting our Everwood TV show page!
Copyright © 1997-2014 CrazyAboutTV.com
All rights reserved