TV Show Trivia, Episode
Lists, Descriptions,
& Cast Photos!


Action TV Shows
Comedy TV Shows
Drama TV Shows
Fantasy & Horror
Kids TV Shows
Miniseries
Reality TV Shows
Sci-Fi TV Shows
TV Game Shows
All Others
TV Shows
---

NOTE: Lists compiled by
date 1st episode aired:

40s TV Shows
50s TV Shows
60s TV Shows
70s TV Shows
80s TV Shows
90s TV Shows
2000s TV Shows
---

TV Shows on Dvd
TV Show Theme Songs
TV Trivia
TV Spin-Offs
TV Forums
Privacy Policy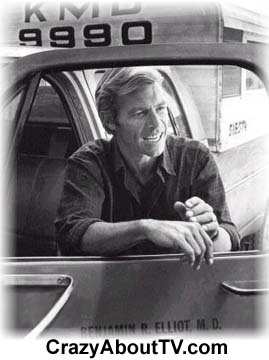 Genre:
The Doc Elliot TV show was a 60 minute medical drama series on ABC.
Doc Elliot Cast
James Franciscus ........... Doctor Benjamin Elliot
Neva Patterson ............. Margaret 'Mags' Brimble
Bo Hopkins ................. Eldred McCoy
Noah Beery, Jr. ............ Barney Weeks
Episodes List With Original Air Dates
The First And Only Season
And All Ye Need To Know (10/10/1973)
A Man Of Importance (11/3/1973)
The Touch Of God (1/23/1974)
No Place To Go (1/30/1974)
A Small Hand Of Friendship (2/6/1974)
The Runner (2/13/1974)
The Carrier (2/20/1974)
A Time To Live (2/27/1974)
A Time To Grow (3/6/1974)
The Gold Mine (3/13/1974)
Survival (3/27/1974)
Things That Might Have Been (4/3/1974)
The Brothers (4/10/1974)
The Pharmacist (5/1/1974)
Thank you for visiting our Doc Elliot TV show page!
Copyright © 1997-2014 CrazyAboutTV.com
All rights reserved