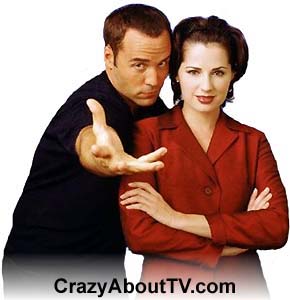 Series Description
The Cupid TV show was a 60 minute comedy series on ABC.
Cupid Cast
Jeremy Piven .... Trevor Hale / Cupid
Paula Marshall .... Claire Allen
Jeffrey D. Sams .... Champ Terrace
Cupid Trivia
There was one episodes of the Cupid TV show that was produced but wasn't broadcast. Its title was "Botched Makeover".
Episodes List With Original Air Dates
The First And Only Season

Pilot Episode (9/26/1998)
The Linguist (10/3/1998)
Heaven, He's In Heaven (10/10/1998)
A Truly Fractured Fairytale (10/17/1998)
First Loves (10/24/1998)
Meat Market (10/31/1998)
Pick-Up Schticks (11/7/1998)
Heart of The Matter (11/21/1998)
The End Of An Eros (12/12/1998)
Hung Jury (12/19/98)
A Great Personality (1/7/1999)
Grand Delusions (1/14/1999)
Bachelorette Party (1/28/1999)
Children's Hour (2/11/1999)
Find Your Favorite Shows From Our List Of Thousands!
Thank you for visiting our Cupid TV show page!
Copyright © 1997-Present CrazyAboutTV.com
All rights reserved