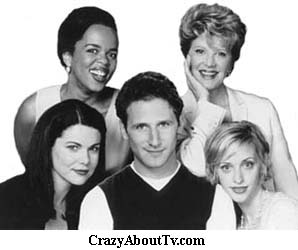 Series Description
The Conrad Bloom TV show was a 30 minute comedy series on NBC about a young man living in New York City. It mainly explored his relationships with the women in his life .. his mother, female boss, female fellow worker and an ex-girlfriend.
Conrad Bloom Cast
Mark Feuerstein .... Conrad Bloom
Ever Carradine .... Nina Bloom
Linda Lavin .... Florie Bloom
Jessica Stone .... Shelley
Lauren Graham .... Molly
Paula Newsome .... Faye Reynolds
Steve Landesberg .... George Dorsey
Episodes List With Original Air Dates
Conrad Bloom - The First And Only Season
Pilot Episode (9/21/1998)
The Fixer (9/28/1998)
The Ultimatum (10/5/1998)
Rebound Guy (10/12/1998)
The Unsinkable Conrad Bloom (10/26/1998)
Gone With The Re-Wind (11/9/1998)
The Spazz Singer (11/16/1998)
To Hell In A Handbag (11/23/1998)
Working Girl (12/21/1998)
Find Your Favorite Shows From Our List Of Thousands!
Thank you for visiting our Conrad Bloom TV show page!
Copyright © 1997-Present CrazyAboutTV.com
All rights reserved