TV Show Trivia, Episode
Lists, Descriptions,
& Cast Photos!


Action TV Shows
Comedy TV Shows
Drama TV Shows
Fantasy & Horror
Kids TV Shows
Miniseries
Reality TV Shows
Sci-Fi TV Shows
TV Game Shows
All Others
TV Shows
---

NOTE: Lists compiled by
date 1st episode aired:

40s TV Shows
50s TV Shows
60s TV Shows
70s TV Shows
80s TV Shows
90s TV Shows
2000s TV Shows
---

TV Shows on Dvd
TV Show Theme Songs
TV Trivia
TV Spin-Offs
TV Forums
Privacy Policy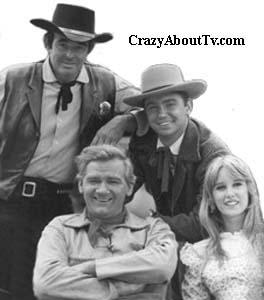 Series Description
The Cimarron Strip TV show was a 90 minute western action series on CBS about a U.S. Marshall who was responsible for patrolling an area between the Kansas Territory and Indian lands during the 1880s.
Cimarron Strip Cast
Stuart Whitman ...... Marshall Jim Crown
Percy Herbert ....... Mac Gregor
Randy Boone ......... Francis Wilde
Jill Townsend ....... Culcey Coopersmith
Cimarron Strip Trivia
CBS developed The Cimarron Strip in response to the huge success of, "The Virginian (1962)", a TV show beginning its sixth season on NBC. Both shows used the same unusual 90 minute format and featured well-known actors and actresses in major roles as guest stars.

While puny by today's standards, the Cimarron Strip TV show had a much larger budget than most series in the 1960s ($250,000 per episode). This was sufficient to produce the 90 minute episodes at near theatrical quality and also provided for hiring many huge stars of the day. Cimarron Strip guest stars included Richard Boone, Joseph Cotton, Broderick Crawford, Warren Oates, Suzanne Pleshette, and Telly Savalas!

The Cimarron Strip plotlines left nothing to be desired either. Subjects including Indian uprisings, deadly gunfights, evil outlaws, speedy pursuits on horseback, and saloon fights. And in every episode, good won out over evil and justice was done!

Stuart Whitman won 32 fights as a light-heavyweight boxer while in the Army. He was nominated for an Academy Award in the 1961 movie, "The Mark" for his role as a child molester. While his career peaked in the mid-1960s, he continued acting regularly and by the late 1990s due mostly to wise financial investments, had accumulated a fortune exceeding $100 million!

The area that Marshall Jim Crown was responsible for patrolling was ten million acres in size! It contained mountains, valleys, desserts, towns, and Indian camps.

The announcer on the Cimarron Strip TV show, "Dick Tufeld", also provided the voice for the robot on the series, "Lost In Space (1965)".

The jailhouse in Cimarron was in a building that also held the town's saloon, restaurant, and the "Wayfarers Inn" boarding house.
Episodes List With Original Air Dates
The First And Only Season
Journey To A Hanging (9/7/1967)
The Legend Of Judd Starr (9/14/1967)
Broken Wing (9/21/1967)
The Battleground (9/28/1967)
The Hunted (10/5/1967)
The Battle Of Bloody Stones (10/12/1967)
Whitey (10/19/1967)
The Roarer (11/2/1967)
The Search (11/9/1967)
Till The End Of The Night (11/16/1967)
The Beast That Walks Like A Man (11/30/1967)
Nobody (12/7/1967)
The Last Wolf (12/14/1967)
The Deputy (12/21/1967)
The Judgment (1/4/1968)
Fool's Gold (1/11/1968)
Heller (1/18/1968)
Knife In The Darkness (1/25/1968)
Sound Of A Drum (2/1/1968)
Big Jessie (2/8/1968)
The Blue Moon Train (2/15/1968)
Without Honor (2/29/1968)
The Greeners (3/7/1968)
Thank you for visiting our The Cimarron Strip TV show page!
Copyright © 1997-2014 CrazyAboutTV.com
All rights reserved