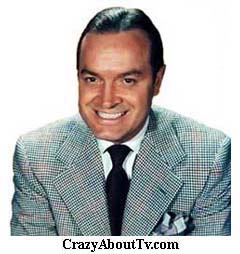 Series Description
The Chrysler Theatre TV show was a 60 minute anthology series on NBC that was hosted by Bob Hope. The stories were a mix of Adventure, Comedy, Crime, Drama, and Mystery and usually featured a well-known star of the time. In sydication, it was known as "Universal Star Time".
Chrysler Theatre Cast
Bob Hope .... Host
Chrysler Theatre Trivia
Bob Hope received a salary of $25,000 for each episode that he simply introduced. He got a whopping $500,000 for each episode where he appeared as the star! That was a ridiculously huge salary in that day!
Although most of the episodes of Bob Hope's Chrysler Theatre were 60 minutes in length, there was occasionally a special that ran for 90 minutes.
Bob Hope was so popular and well-liked that he had no problem drawing other big name actors to co-star or star on the Chrysler Theatre. Some of them included Angie Dickinson ("Police Woman"), Peter Falk ("Columbo"), Jack Lord ("Hawaii Five-0"), Hugh O'Brian ("Wyatt Earp"), Suzanne Pleshette ("Bob Newhart Show"), and William Shatner ("Star Trek").
Episode #63, "Tell Them The Streets Are Dancing" was the pilot episode of the "Wojeck" TV series.
Bob Hope Presents the Chrsler Theatre was nominated for 12 Emmys and won five of them. The series itself won in 1966 for "Outstanding Variety Special" for the Christmas show that aired on December 22, 1965. Actress Shelly Winters won another for a guest star appearance and writer Rod Serling ("The Twilight Zone") also won for "Outstanding Writing Achievement in Drama - Adaptation". Even after the Chrysler Theatre left the air, numerous episodes appeared in rerun through 1972. For the first two seasons they were referred to as the "NBC Comedy Playhouse". During the last year they were called the "NBC Action Playhouse", "NBC Adventure Theatre", or the "NBC Comedy Theater", depending upon the genre of each particular episode. Bob Hope's introductions were edited out and introductions by other personalities were used. First was Monty Hall ("Let's Make A Deal") as host of the "NBC Comedy Playhouse" in 1968. Jack Kelly ("Maverick") took over Monty's duties in 1970 and also stayed thereafter to host the "Comedy Theater" episodes. Art Fleming (the original host of "Jeopardy") hosted the "NBC Adventure Theatre" episodes, Peter Marshall ("Hollywood Squares") hosted the "NBC Action Playhouse" episodes, and Ed McMahon ("The Tonight Show") hosted those on the "NBC Adventure Theatre".
Episodes List With Original Air Dates
Season 1

A Killing At Sundial (10/4/1963)
Something About Lee Wiley (10/11/1963)
Seven Miles Of Bad Road (10/18/1963)
Bob Hope Variety Special (10/25/1963)
Four KingS (11/1/1963)
One Day In The Life Of Ivan Denisovich (11/8/1963)
The House Next Door (11/15/1963)
The Square Peg (11/22/1963)
The Fifth Passenger (11/29/1963)
The Candidate (12/6/1963)
It's Mental Work (12/20/1963)
Corridor 400 (12/27/1963)
War Of Nerves (1/3/1964)
Runaway (1/10/1964)
The Seven Little Foys (1/24/1964)
Two Is The Number (1/31/1964)
A Wind Of Hurricane Force (2/7/1964)
Wake Up Darling (2/21/1964)
Meal Ticket (2/28/1964)
White Snow, Red Ice (3/13/1964)
Her School For Bachelors (3/20/1964)
A Slow Fade To Black (3/27/1964)
A Case Of Armed Robbery (4/3/1964)
Bob Hope Comedy Special (4/17/1964)
Time For Elizabeth (4/24/1964)
The Game With Glass Pieces (5/1/1964)
The Command (5/22/1964)
The Sojourner (5/29/1964)
Echo Of Evil (6/5/1964)
Season 2
Think Pretty (10/2/1964)
Murder In The First (10/9/1964)
Have Girls Will Travel (10/16/1964)
The Turncoat (10/23/1964)
The Timothy Heist (10/30/1964)
Out Of The Outskirts Of Town (11/6/1964)
Parties To The Crime (11/27/1964)
Mr. Biddle's Crime Wave (12/4/1964)
The Shattered Glass (12/11/1964)
Clash Of Cymbals (12/25/1964)
Double Jeopardy (1/8/1965)
Exit From A Plane In Flight (1/22/1965)
The Loving Cup (1/29/1965)
The Fliers (2/5/1965)
Cops And Robbers (2/19/1965)
Terror Island (2/26/1965)
The War And Eric Kurtz (3/5/1965)
In Any Language (3/12/1965)
Perilous Times (3/19/1965)
Memorandum For A Spy - Part 1 (4/2/1965)
Memorandum For A Spy - Part 2 (4/9/1965)
A Time For Killing (4/30/1965)
Escape Into Jeopardy (5/28/1965)
Simon Says, "Get Married" (6/4/1965)
Season 3
The Game (9/15/1965)
The Crime (9/22/1965)
March From Camp Tyler (10/6/1965)
Kicks (10/13/1965)
Back To Back (10/27/1965)
Mister Governess (11/10/1965)
Highest Fall Of All (12/1/1965)
Bob Hope Christmas Variety Special (12/22/1965)
The Admiral (12/29/1965)
The Enemy On The Beach (1/5/1966)
After The Lion, Jackals (1/26/1966)
When Hell Froze (2/2/1966)
A Small Rebellion (2/9/1966)
Wind Fever (3/2/1966)
Tell Them The Streets Are Dancing (3/9/1966)
Brilliant Benjamin Boggs (3/30/1966)
The Sister And The Savage (4/6/1966)
The Faceless Man (5/4/1966)
Holloway's Daughters (5/11/1966)
One Embezzlement And Two Margaritas (5/18/1966)
Runaway Boy (5/25/1966)
Guilty Or Not Guilty (6/1/1966)
Shipwrecked (6/8/1966)
In Pursuit Of Excellence (6/22/1966)
Season 4
Nightmare (9/14/1966)
Time Of Flight (9/21/1966)
And Baby Makes Five (10/5/1966)
Crazier Than Cotton (10/12/1966)
Murder At N.B.C. (10/19/1966)
Massacre At Fort Phil Kearny (10/26/1966)
Dear Deductible (11/9/1966)
The Big Stomach (11/16/1966)
The Blue-Eyed Horse (11/23/1966)
The Fatal Mistake (11/30/1966)
Storm Crossing (12/7/1966)
The Eighth Day (12/21/1966)
A Time To Love (1/11/1967)
Code Name: Heraclitus - Part 1 (1/18/1967)
Code Name: Heraclitus - Part 2 (1/25/1967)
The Lady Is My Life (2/1/1967)
Blind Man's Bluff (2/8/1967)
A Song Called Revenge (3/1/1967)
The Reason Nobody Hardly Ever Seen A Fat Outlaw In The Old West Is As Follows: (3/8/1967)
Free Of Charge (3/22/1967)
Verdict For Terror (3/29/1967)
Dead Wrong (4/5/1967)
Don't Wait For Tomorrow (4/19/1967)
Wipeout (4/26/1967)
To Sleep, Perchance To Scream (5/10/1967)
Deadlock (5/17/1967)
Find Your Favorite Shows From Our List Of Thousands!
Thank you for visiting our Chrysler Theatre TV show page!
Copyright © 1997-Present CrazyAboutTV.com
All rights reserved