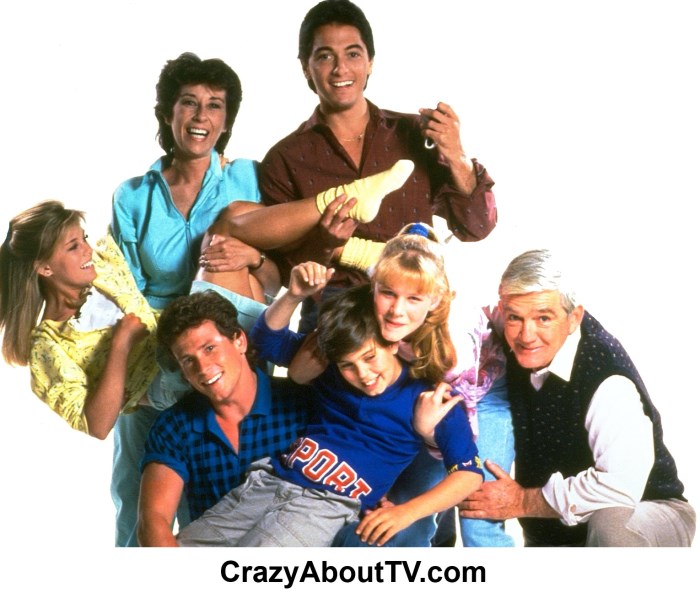 Series Description

The Charles In Charge TV show was a 30 minute family comedy series that aired on CBS in its first season and then in syndication thereafter. It was about a college student (Charles) who moves in with the Pembroke family. He received free rent in exchange for doing housework and babysitting the children. Due to low ratings, the Pembrokes were transferred to another city (for work) and the Powell family took their place starting in the second season.

Charles In Charge Cast

Scott Baio .... Charles
Willie Aames .... Buddy Lembeck
James T. Callahan .... Walter Powell (1987-1990)
Nicole Eggert .... Jamie Powell (1987-1990)
Sandra Kerns .... Ellen Powell (1987-1990)
Josie Davis .... Sarah Powell (1987-1990)
Alexander Polinsky .... Adam Powell (1987-1990)
Ellen Travolta .... Lillian (1987-1990)
Julie Cobb .... Jill Pembroke (1984-1985)
April Lerman .... Lila Pembroke (1984-1985)
James Widdoes .... Stan Pembroke (1984-1985)
Jennifer Runyon .... Gwendolyn Pierce (1984-1985)
Jonathan Ward .... Douglas Pembroke (1984-1985)
Michael Pearlman .... Jason Michael Pembroke (1984-1985)
Justin Whalin .... Anthony (1988)

Theme Song

Title: "Charles in Charge"

By: "Timothy Thompson"

New boy in the neighborhood
Lives downstairs and it is understood.
He's there just to take good care of me,
Like he's one of the family.

Charles in Charge
Of our days and our nights
Charles in Charge
Of our wrongs and our rights

And I sing, I want,
I want Charge in Charge of me.

Charles in Charge
Of our days and our nights
Charles in Charge
Of our wrongs and our rights

And I sing, I want,
I want Charge in Charge of me.

Charles In Charge Trivia

The college that Charles attended was Copeland College in New Brunswick, New Jersey. Neither the name or location of the college were revealed until Charles In Charge left CBS and went into first run syndication in its second season.

There was 20 month delay from the end of the first season til the beginning of the second season which began in December of 1986!

Charles in Charge was the third series where Ellen Travolta played the role of Scott Baio's mother. The other two were "Happy Days" and "Joanie Loves Chachi".

Charle's last name (and, therefore, his mother's) was never revealed during the show's entire run. This was obviously done on purpose. In some of the episodes there were situations where Charles would normally have given his last name but doesn't. (For example: a whole group of students are exchanging names and Charles gets conveniently called away for some reason).

The role of Charles was actually specially written for Michael J. Fox ("Family Ties") but when he turned it down Scott Baio was given the role that ran for five seasons! It's doubtful the Michael J. Fox was too torn up over it though as he landed the role of "Marty McFly" in the first "Back to the Future" movie about that same time!

Scott Baio was a classic teen idol. In fact, TV Guide magazine ranked him #16 on the "TV's 25 Greatest Teen Idols" list in their January 23, 2005 issue! He earned the title with millions of loving female fans. He also dated some of the hottest celebrities including Brooke Shields ("Suddenly Susan"), Heather Locklear ("Spin City"), Pamela Anderson ("Stacked"), Nicole Eggert ("Baywatch"), Erika Eleniak ("Baywatch"), Natalie Raitano ("V.I.P."), and even Nicollette Sheridan who is still gorgeously sexy 20 years later in her role as Edie Britt on the series "Desperate Housewives"!

Fans of Willie Aames as "Tommy Bradford" on the series, "Eight Is Enough" were happy to see him again on Charles In Charge!

Episodes List With Original Air Dates

Season 1

Pilot Episode (10/3/1984)
Extracurricular Activity (10/10/1984)
Another Saturday Night (10/17/1984)
War (10/24/1984)
Cousin Elliott (11/7/1984)
Slumber Party (11/14/1984)
Discipline (11/21/1984)
Trick or Treat (11/28/1984)
A Date with Enid (12/5/1984)
Friends & Lovers (12/12/1984)
Home for the Holidays (12/19/1984)
Accidental Puppy (12/26/1984)
The Commotion (1/2/1985)
Mr. President (1/16/1985)
Jill's Decision (1/23/1985)
Pressure from Grandma (1/30/1985)
Snowed In (2/6/1985)
Charles 'R' Us (2/13/1985)
Charles' Spring Break (2/20/1985)
The Wrong Guy (2/27/1985)
Mr. Brilliant (3/13/1985)
Meet Grandpa (4/3/1985)
Season 2

From this point on, Charles In Charge was in 1st run syndication. Air dates varied from station to station.

Amityville
The Naked Truth
Feud for Thought
The Loan Arranger
The Egg and Us
American Teen
Buddy Comes to Dinner
A Fox in the Henhouse
Pizza Parlor Protest
Trade Off
Dating
Music, Music, Mayhem
Buddy in Charge
The Case of the Mock-Turtle Mystery
Mama Mia
Weekend Weary
The Heart Burglar
Dear Charles
Getting In
Isn't That What's Her Face?
A Date From Heck
A Job From Heck
The Undergraduate
Her Brother's Keeper
Lillian Putts a Round
U.F. Oh No
Season 3
Twice Upon a Time - Part 1
Twice Upon a Time - Part 2
Baby Doll
Speechless
Yule Laff
Infatuation
Piece of Cake
Role Model
The Extremely Odd Couple
Dorm Warnings
Sarah Steps Out
The Buddy System
Poppa, the Sailor Man
The Pickle Plot
Bottle Baby
The Blackboard Bungle
Trading Papers
Five Easy Pizzas
Hero Today, Gone Tomorrow
Dutiful Dreamer
Berkling Up Is Hard to Do
The Boy Who Loved Women
May the Best Man Lose
Runaround Charles
Where the Auction Is
Barbelles
Season 4
No Nukes, Is Good Nukes
Ninny and the Professor
A Sting of Pearls
Room at the Bottom
Yesterday Cafe
Duelling Presleys
Walter Gets a Dodo
Adam See, Adam Do
Ladies' Night Out
Fatal Obsession
Still at Large
Chargin' Charles
A Fish Called Buddy
Curing the Common Cult
Walter's War
Second Banana
Poetic License
Charles Splits - Part 1
Charles Splits - Part 2
The Organization Man
Aunt Vanessa
It's a Blunderfull Life
Bad Boy
Big Bang
Triple Threat
Buddy's Daddy
Season 5
Summer Together, Fall Apart
Get Thee to a Nuttery
Three Dates & a Walnut
Out with the in Crowd
There's a Girl in My Ficus
Judge Not Lest Ye Beheaded
Child Hoods
Baby Bummer
Paper Covers Rock
Advice and Contempt
Daffy Doc
Buddy Flips a Disc
Don't Rock the Vote
Brain Man
Frankie and Mommy
Let's Quake a Deal
Up Your IQ
All That Chaz
Dead Puck Society
Lost Resort
La Cage Aux Fools
Seeing Is Believing
Teacher's Pest
Charles Be DeMille
Fair Exchange
Almost Family
Find Your Favorite Shows From Our List Of Thousands!
Home Page
1940s
1950s
1960s
1970s
1980s
1990s
2000+
Action
Comedy
Drama
Fantasy/Horror
For Kids
Miniseries
Reality
Sci-Fi
Game Shows
Others
TV on Dvd
Theme Songs
TV Schedule
Spin-Offs
Privacy Policy
Thank you for visiting our Charles In Charge TV show page!
Copyright © 1997-2014 CrazyAboutTV.com
All rights reserved