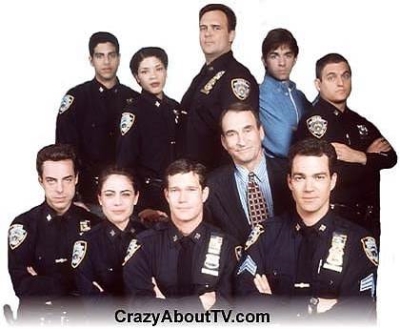 Series Description
The Brooklyn South TV show was a 60 minute crime drama series on CBS about the day-to-day operations at a police station in Brooklyn. In addition to showing the activities of the police, Brooklyn South also followed the effects that crimes had on the victims.
Brooklyn South Cast
Jon Tenney .... Sergeant Francis X. Donovan
Yancy Butler .... Ann-Marie Kersey
Michael DeLuise .... Phil Roussakoff
Dylan Walsh .... Jimmy Doyle
Gary Basaraba .... Sergeant Richard Santoro
James Sikking .... Lieutenant Stan Jonas
Titus Welliver .... Jack Lowery
Klea Scott .... Nona Valentine
Patrick McGaw .... Terry Doyle
Richard T. Jones .... Clement Johnson
Adam Rodriguez .... Hector Villanueva
Episodes List With Original Air Dates
The First And Only Season

Pilot Episode (9/22/1997)
Life Under Castro (9/29/1997)
Why Can't Even a Couple of Us Get Along? (10/6/1997)
Touched by a Checkered Cab (10/13/1997)
Clown Without Pity (10/20/1997)
A Reverend Runs Through It (11/3/1997)
Love Hurts (11/10/1997)
Wild Irish Woes (11/17/1997)
McMurder One (11/24/1997)
Dublin or Nothin' (12/8/1997)
Gay Avec (1/12/1998)
Exposing Johnson (1/19/1998)
Tears on My Willow (1/26/1998)
Violet Inviolate (2/2/1998)
Fisticuffs (2/23/1998)
Don't You Be My Valentine (3/2/1998)
Dead Man Sleeping (3/9/1998)
Fools Russian (3/16/1998)
Doggonit (4/13/1998)
Cinnamon Buns (4/14/1998)
Skel in a Cell (4/20/1998)
Queens for a Day (4/27/1998)
Find Your Favorite Shows From Our List Of Thousands!
Thank you for visiting our Brooklyn South TV show page!
Copyright © 1997-Present CrazyAboutTV.com
All rights reserved