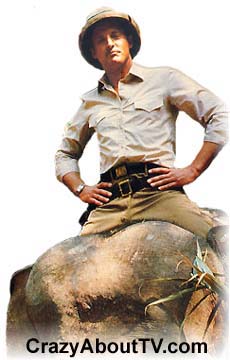 Series Description
Bring 'Em Back Alive was a 60 minute adventure / action series on CBS about a famous animal hunter and guide. The show was set in Southeast Asia in the early 1940s.
Bring 'Em Back Alive Cast
Bruce Boxleitner .... Frank Buck
Cindy Morgan .... Gloria Marlowe
Sean McClory .... Myles Delaney
John A. Zee .... G.B. VonTurgo
Ron O'Neal .... Sultan "H.H." Of Johore
Clyde Kusatsu .... Ali
Bring 'Em Back Alive Trivia
Frank Buck was based on a real-life individual of the same name and a book loosely based on his life also titled, "Bring 'Em Back Alive". Frank Buck's compound on the show was reproduced from photographs of the real-life Frank Buck's Katong headquarters.
The main motivation for developing this series was the huge success of the movie, "Raiders Of The Lost Ark" which featured a similar character.
Frank Buck operated out of the Raffles Hotel bar in Singapore.
Bruce Boxleitner is probably best known for his role as "Captain John Sheridan" on the TV series, "Babylon 5" and as "Lee Stetson" on "The Scarecrow & Mrs. King". Most of Bring 'Em Back Alive was filmed at the Burbank Studios of Columbia Picture Television. The scenes that included jungle were shot in Hawaii and at the Los Angeles Arboretum. The bar and lobby were built on Stage 22. The lamps on the tables there were also used to film the 1942 Humphrey Bogart classic movie, "Casablanca"!
The trousers and helmet that Frank Buck wore on the show were vintage items from the 1920s. The boots he wore in the first episode were from 1918!
One of the many super expensive automobiles driven by Sultan "H.H." Of Johore was a "one-of-a-kind" 1934 Phantom II Rolls Royce! It was specially made as a hunting car for the Maharaja Jodhpur. Now that's hunting in style!
Clyde Kusatsu appeared on eight episodes of the series, "Magnum P.I.". His appearances were far enough apart that, hopefully, audiences didn't notice that he played four different characters on the same series!
Episodes List With Original Air Dates
Bring 'Em Back Alive - The First And Only Season
Bring 'Em Back Alive (9/24/1982)
Seven Keys To Singapore (9/28/1982)
There's One Born Every Minute (10/5/1982)
The Reel World Of Frank Buck (10/12/1982)
The Pied Piper (10/19/1982)
The Warlord (10/26/1982)
Thirty Hours (11/16/1982)
Wilmer Bass And The Serengeti Kid (11/23/1982)
Escape From Kampoon (11/30/1982)
The Best Of Enemies (12/7/1982)
To Kill A Princess (1/8/1983)
Bones Of Contention (1/15/1983)
A Switch In Time (1/22/1983)
The Shadow Women Of Chung Tai (1/29/1983)
The Hostage (2/12/1983)
Dead Run (2/19/1983)
Storm Warning (5/31/1983)
Find Your Favorite Shows From Our List Of Thousands!
Thank you for visiting our Bring 'Em Back Alive TV show page!
Copyright © 1997-Present CrazyAboutTV.com
All rights reserved