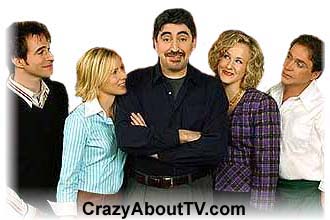 Series Description
The Bram and Alice TV show was a 30 minute comedy series on CBS about an adopted young woman who wanted to become a published writer. She found out that her biological father was once a famous novelist and went to meet him. She discovers that he wasn't the man he used to be and, in fact, hadn't published anything in many, many years. Even so, she did her best to get to know him and make up for the years that they had missed as father and daughter.
Bram and Alice Cast
Alfred Molina .... Bram Shepherd
Traylor Howard .... Alice O'Connor
Roger Bart .... Paul Newman
Michael Rispoli .... Michael
Katie Finneran .... Katie
Bram and Alice Trivia
There were five episodes of Bram and Alice that were produced but did not originally air after Wanda at Large was canceled. Their titles were "Required Reading", "Getting to Know You", "Book of the Dead", "Scribbling Rivalry", and "Alice Doesn't Live Here Anymore".

Episodes List With Original Air Dates
Bram and Alice - The First And Only Season
Pilot Episode (10/6/2002)
Cat Burglar (10/13/2002)
Paul-Pot (10/20/2002)
Goody Two Shoes (10/27/2002)
Find Your Favorite Shows From Our List Of Thousands!
Thank you for visiting our Bram and Alice page!
Copyright © 1997-Present CrazyAboutTV.com
All rights reserved