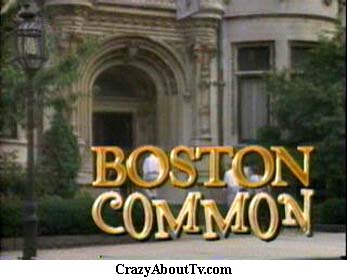 Series Description
The Boston Common TV show was a comedy series on NBC about an 18-year-old girl who left her hometown in Virginia to attend College in Boston, Massachusetts. Her older brother decided to "keep an eye on" her by following her to Boston and sharing an apartment with her.
Boston Common Cast
Anthony Clark .... Boyd Pritchett
Hedy Burress .... Wyleen Pritchett
Steve Paymer .... Leonard Prince
Traylor Howard .... Joy Byrnes
Vincent Ventresca .... Jack Reed
Tasha Smith .... Tasha King
Boston Common Trivia
The College featured on Boston Common was called Randolph Harrington College. Boyd Pritchett worked there in the student union.
Randolph Harrington College was based on Emerson College (Actually in Boston) which Anthony Clark attended in real life!
The Boston Common TV show had one advantage when it returned in September of 1996 for its second season. It followed "Dateline NBC" and "3rd Rock from the Sun". On the other hand, the series had to compete against two real blockbuster shows with "Lois and Clark" on ABC and "Touched by an Angel" on CBS!
There have been many reports that Hedy Burress was named after movie star, "Hedy Lamarr". Actually, Hedy's birth name was Heather Burress. Her little brother had trouble pronouncing Heather. When it came out Hedy, she decided to use it!
Traylor Howard got her first name in an interesting way too! Traylor is her mother's maiden name!
And let's not leave out Vincent Ventresca. His full name is Vincent Paul Gerard Ventresca. He got the "Paul Gerard" because they were the two saints that his mother prayed to during her pregnancy. She was 47 years old at the time and it wasn't a pleasant experience for her. It wasn't that she waited till later in life for children. Vincent was her youngest of 11 children!
Episodes List With Original Air Dates
Season 1

Pilot Episode (3/21/1996)
Out, Out, Damn Jack! (3/28/1996)
I Thee Endow (4/4/1996)
Relationship Of Fools (4/11/1996)
Boyd Gets Shrunk (4/18/1996)
Virginia Reeling (4/25/1996)
Hope Springs A Leak (8/11/1996)
Autumn 'Foilage' (8/18/1996)
Everybody's Stalking (9/8/1996)
A Streetcar Named Denial (9/15/1996)
Season 2
Everything's Coming Up Sub-Rosas (9/29/1996)
Conspiracy Of Dunces (10/6/1996)
This Ain't No Party, This Ain't No Disco... (10/13/1996)
Mercury Retrograde (10/20/1996)
The War Room (10/27/1996)
Trustee And Sympathy (11/3/1996)
A Triage Grows In Boston (11/10/1996)
Gobble, Gobble, Aggch! (11/17/1996)
Coming Clean (11/20/1996)
Arts And Craftiness (12/8/1996)
The Finals Curtain (12/15/1996)
Soup To Nuts (1/5/1997)
A Night In Camelot (2/16/1997)
Commander-In-Grief (3/9/1997)
His And Herpes (3/16/1997)
Extra Credit (3/23/1997)
The Occidental Purists (4/6/1997)
Here's To You, Mrs. Byrnes (4/7/1997)
I.D. Endow (4/13/1997)
To Bare Is Human (4/14/1997)
A Cross To Bear (4/20/1997)
Sophomore's Choice (4/27/1997)
Find Your Favorite Shows From Our List Of Thousands!
Thank you for visiting our Boston Common TV show page!
Copyright © 1997-Present CrazyAboutTV.com
All rights reserved