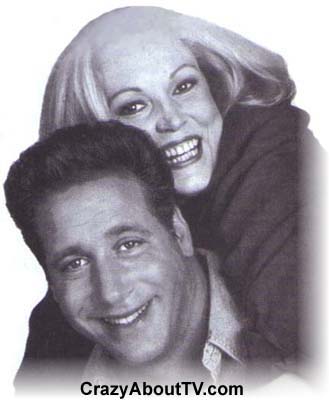 Series Description
The Bless This House TV show was a 30 minute comedy series on CBS about a postal worker, his wife, and two children living in New York City.
Bless This House Cast
Andrew Dice Clay .... Burt Clayton
Cathy Moriarty .... Alice Clayton
Patricia Healy .... Vicki Staretski
Wren T. Brown .... Cuba
Don Stark .... Lenny
Kimberly Cullum .... Jane
Molly Price .... Phyllis
Sam Gifaldi .... Sean
Raegan Kotz .... Danny
Episodes List With Original Air Dates
The First And Only Season

Pilot Episode (9/11/1995)
A Woman's Work is Never Done (9/13/1995)
Company Loves Misery (9/20/1995)
A Date Which Will Live in Infamy (9/27/1995)
I Am Not My Sister's Keeper (10/11/1995)
Where There's Smoke, You're Fired (10/18/1995)
The Road to Hell is Paved With Good Intentions (10/25/1995)
A Fight a Day Keeps the Doctor Away (11/1/1995)
Fish and Guests Stink After Three Days (11/8/1995)
The Postman Always Moves Twice (11/15/1995)
Neither a Borrower Nor a Landlord Be (11/22/1995)
If It Ain't Broke, Break It (12/13/1995)
Misery on 34th Street (12/20/1995)
The Bowling Method (1/3/1996)
One Man's Ceiling is Another Man's Stereo (1/10/1996)
Natural Born Parents (1/17/1996)
Find Your Favorite Shows From Our List Of Thousands!
Thank you for visiting our Bless This House TV show page!
Copyright © 1997-Present CrazyAboutTV.com
All rights reserved