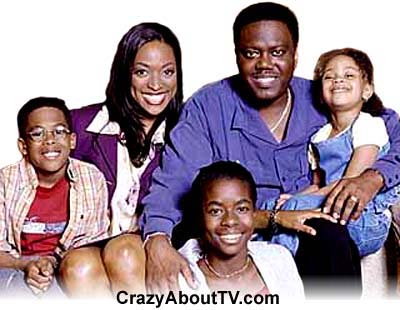 Series Description
The Bernie Mac TV show was a 30 minute comedy series on the FOX Network about a famous stand-up comedian who was living the carefree childless life of a L.A. superstar. But when his sister went into drug rehab, her three "problem" children had nowhere else to go and his life changed dramatically overnight.
Bernie Mac Show Cast
Bernie Mac .... Bernie "Mac" McCullough
Kellita Smith .... Wanda McCullough
Camille Winbush .... Vanessa "Nessa" Thomkins
Jeremy Suarez .... Jordan Thomkins
Dee Dee Davis .... Bryana "Baby Girl" Thomkins
Bernie Mac Show Trivia
Bernie Mac nearly did not agree to do the show because he felt that the limitations of what can be done on prime-time television might cramp his style of comedy.
The idea for the Bernie Mac Show was first pitched to ABC, CBS, NBC, and the WB before being snapped up by FOX.
Bernie Mac was a boxer before moving to stand-up comedy in 1977. His first paid performance was at the Cotton Club in Chicago, Illinois. Bernie had so little money at the time that he was forced to borrow a suit from his brother for the performance! Stand-up is a tough business but Bernie stuck with it and got his big break in 1992 as a frequent performer on the TV series, "Def Comedy Jam".
Unlike most sitcoms which are filmed using three cameras, the Bernie Mac Show uses the single camera method. The series is not shot in front of a studio audience and no laugh tracks are added. The three camera method was invented by Desi Arnaz for use on the "I Love Lucy Show" and has become the industry standard, but is more expensive.
The Bernie Mac Show's creator, "Larry Wilmore" was fired during the second season. FOX felt that changes needed to be made in order to increase the number of laughs to improve poor ratings and Wilmore didn't appreciate FOX's interference with his vision for the show.
The Bernie Mac character placed #47 in the TV Guide June 20, 2004 issue's "50 Greatest TV Dads of All Time" list!
Episodes List With Original Air Dates
Season 1

Pilot Episode (11/14/2001)
Now You Got It (11/14/2001)
The Main Event (11/21/2001)
Bernie Mac, Ladies Man (11/28/2001)
Saving Bernie Mac (12/5/2001)
Here To Stay (12/12/2001)
A Christmas Story (12/19/2001)
Starting School (1/2/2002)
Hot Hot Hot (1/16/2002)
Wanda's Week Off (1/23/2002)
The King and I (1/30/2002)
Hall of Fame (2/6/2002)
Handle Your Business (2/13/2002)
Back in the Day (2/20/2002)
Lock Down (3/6/2002)
Mac 101 (3/27/2002)
If I Were N-Riched Man (4/3/2002)
Stop Having Sex (4/17/2002)
Secrets and Lies (5/1/2002)
Kelly's Heroes (5/8/2002)
Sweet Home Chicago - Part 1 (5/15/2002)
Sweet Home Chicago - Part 2 (5/15/2002)
Season 2
Keep It on the Short Grass (9/18/2002)
Goodbye Dolly (9/25/2002)
Carfool (10/30/2002)
Mac Local 137 (11/6/2002)
Welcome to the Jungle (11/13/2002)
Bernie Mac Dance Party (11/20/2002)
Tryptophan-tasy (11/27/2002)
The United Front (12/4/2002)
The Sweet Life (12/11/2002)
Sin Cup (1/15/2003)
Bernie Mac Rope-a-Dope (2/5/2003)
Magic Jordan (2/12/2003)
Raging Election (2/26/2003)
Leaving Los Angeles (3/12/2003)
Pink Gold (3/19/2003)
Chess Wars (4/9/2003)
The Incredible Bulk (4/16/2003)
Maid Man (4/23/2003)
Nut Job (4/30/2003)
The Other Sister (5/7/2003)
Meet The Grandparents (5/7/2003)
For a Few Dollars More (5/14/2003)
Season 3
Eye of the Tiger (11/30/2003)
Love Thy Nephew (12/7/2003)
Road to Tradition (12/14/2003)
Laughing Matters (12/21/2003)
Hair Jordan (1/4/2004)
Love Bug (1/11/2004)
It's A Wonderful Wife (1/25/2004)
Family Reunion (2/8/2004)
Droobie or Not Droobie (2/15/2004)
J-O-R-D-A-N Spells Funny (2/22/2004)
Make Room for Caddy (3/7/2004)
Saving Sergeant Tompkins (3/14/2004)
It's Mac-ademic (3/22/2004)
The Getaway (3/29/2004)
Easy Rider (4/5/2004)
Who's That Lady (4/12/2004)
Mac-Inations (4/12/2004)
That Old Mac Magic (4/26/2004)
The Talk (4/26/2004)
Five Stages of Bryana (6/15/2004)
Go Bernie, It's Your Birthday (6/22/2004)
Thanksgiving (6/29/2004)
Big Brother (9/8/2004)
Training Wheels (9/15/2004)
Being Bernie Mac (9/22/2004)
Mac Overdrive (9/29/2004)
Season 4
My Privacy (1/14/2005)
Who Gives This Bride (1/14/2005)
Nerdy Mac (1/21/2005)
Stone Nuts (1/28/2005)
Jack & Jacqueline (2/4/2005)
Manchild in Vanessa Land (2/11/2005)
You Don't Know Squad (2/18/2005)
You Got Served (2/25/2005)
I Don't Wanna Be a Playa No More (3/11/2005)
The Big Picture (3/18/2005)
The Music Mac (4/1/2005)
Walk Like a Man (4/8/2005)
Season 5
Father Knows Best (9/23/2005)
Wrestling with a Sticky Situation (9/23/2005)
Marathon Mac (9/30/2005)
The Big Payback (10/7/2005)
Car Wars (10/21/2005)
Night of Terror (10/28/2005)
For Whom The Belt Tolls (11/4/2005)
Pop Pop Goes The Weasel (11/11/2005)
Prison Break (11/18/2005)
Some Church Bull (12/2/2005)
Sorely Missed (12/16/2005)
Fumes of Detente (1/6/2006)
Exercise In Fertility - Part 1 (1/13/2006)
Exercise In Fertility - Part 2 (1/20/2006)
Fantasy Football (1/27/2006)
Bar Mitzvah Crashers (2/3/2006)
Who's Your Mama (3/31/2006)
What Would Jason Do (3/31/2006)
It's Never As Bad As the First Time (4/7/2006)
Spinning Wheels (4/7/2006)
Growing Pains (4/14/2006)
Bernie's Angels (4/14/2006)
Find Your Favorite Shows From Our List Of Thousands!
Thank you for visiting our The Bernie Mac Show page!
Copyright © 1997-Present CrazyAboutTV.com
All rights reserved