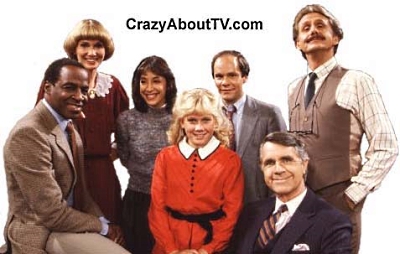 Series Description
The Benson TV show was a 30 minute comedy series on ABC about an African-American butler (Benson) with a "tell it like it is" attitude who goes to work for a dim-witted (but really nice guy) Governor. While actually hired only to head the Governor's household, Benson quickly uses his intellect and fortitude to help the Governor deal with his wacky staff in a "no nonsense" way that the Governor just isn't capable of pulling off himself. To say the least, the staff was not happy with the meddling from this meddling butler!
Benson Cast
Robert Guillaume .... Benson DuBois
James Noble .... Governor Eugene Xavier Gatling
Missy Gold .... Katherine "Katie" Olivia Gatling
Inga Swenson .... Miss Gretchen Wilomena Kraus
Rene Auberjonois .... Clayton Runnymede Endicott III (1980-1986)
Ethan Phillips .... Peter "Pete" John Downey (1980-1985)
Didi Conn .... Denise Florence Stevens Downey (1981-1985)
Billie Bird .... Mrs. Rose Cassidy (1984-1986)
Bob Fraser .... Senator Leonard Tyler (1983-1986)
Caroline McWilliams .... Marcy Hill (1979-1981)
Lewis J. Stadlen .... John Taylor (1979-1980)
Donna LaBrie .... Senator Diane Hartford (1985-1986)
Jerry Seinfeld .... Frankie (1980-1981)
Benson Trivia
The Benson TV show was a "spin-off" of the series, "Soap". Benson was sent by his employer on Soap to work for her cousin, a state Governor. And in a very rare occurrence, Benson actually remained on the air longer than the series which inspired it! Soap lasted 4 seasons and 85 episodes but Benson lasted 7 seasons and 158 episodes.
On episode #122, "Scenario", a computer network called "ARPANET" was accessed to get needed information. ARPANET was the precursor to the internet which was used by the U.S. government. This was the first network series to show the use of the "internet".
Missy Gold played the role of the Governor's daughter on Benson. Missy's sister Tracey Gold played the role of a daughter on the series, "Growing Pains"! They even played those roles for a while simultaneously. Growing Pains' first season coincided with Benson's final season.
WARNING - SPOILER!: The Governor came to appreciate Benson's assistance with non-household tasks so much that he promoted his to State Budget Director, and then eventually to Lieutenant Governor!
Jerry Seinfeld's role as Frankie on the series was his very first acting role!
On the final episode of Benson, the Governor was running for re-election and Benson was running against him! Three different endings for that episode were shot ... one with the Governor being re-elected ... one with Benson being elected ... and one with a third candidate winning. Even though the episode was titled, "And the Winner Is", when it aired the episode ended without revealing the winner! Apparently, none of the three endings were found to be acceptable so they just left the ending off!
Episodes List With Original Air Dates
Season 1

Pilot Episode (9/13/1979)
Trust Me (9/20/1979)
The President's Double (9/27/1979)
Benson In Love (10/4/1979)
Conflict Of Interest (10/18/1979)
The Layoff (10/25/1979)
Snowbound (11/1/1979)
Jessica (11/8/1979)
Don't Quote Me (11/22/1979)
War Stories (11/29/1979)
Ghost Story (12/6/1979)
Taylor's Bid (12/13/1979)
One Strike, You're Out (12/27/1979)
Just Friends (1/3/1980)
Chain Of Command (1/10/1980)
Bugging The Governor (1/24/1980)
Kraus Affair (1/31/1980)
Checkmate (2/7/1980)
Cold Storage (2/28/1980)
Old Man Gatlin' (3/6/1980)
Power Play (3/20/1980)
Takin' It To The Streets (3/27/1980)
The Army Wants You (5/1/1980)
Marcy's Vacation (5/8/1980)
Season 2
Thick As Thieves (10/31/1980)
Benson In The Hospital (11/7/1980)
Fool's Gold (11/14/1980)
Masquerade (11/21/1980)
First Lady (11/28/1980)
Citizen Kraus (12/12/1980)
Benson's Groupie (12/19/1980)
In High Places (1/9/1981)
Old School Ties (1/16/1981)
The Apartment (1/23/1981)
Big Buddy (2/6/1981)
Fireside Chat (2/13/1981)
Marcy's Wedding (2/20/1981)
Rivals (2/27/1981)
No Sad Songs (3/6/1981)
Clayton, Go Home (3/13/1981)
Easy Kid Stuff (3/20/1981)
Homework (4/3/1981)
Handwriting On The Wall (4/10/1981)
The Governor's House Call (5/8/1981)
All Shook Up (5/15/1981)
Lifesaver (5/22/1981)
Season 3
Benson's Appointment (11/6/1981)
The Grass Ain't Greener (11/13/1981)
Sit-In (11/27/1981)
Double Exposure (12/4/1981)
The Lobbyist (12/11/1981)
Stress (12/18/1981)
Rainbow's End (12/25/1982)
Once In A Blue Moon (1/8/1982)
Kraus Falls In Love (1/15/1982)
Stocks & Options (1/22/1982)
Kraus's Deadly Mistake (2/5/1982)
Wild Irish Rose (2/12/1982)
Street Gangs (2/19/1982)
Katie's Romance (2/26/1982)
Clayton's Condo (3/5/1982)
Getting Even (3/12/1982)
Pete The Hero (3/19/1982)
In The Red (3/26/1982)
Teed Off (4/2/1982)
The Party's Over (4/30/1982)
The Lumber Mill (5/7/1982)
Black Tuesday (5/14/1982)
Season 4
Death In A Funny Position - Part 1 (10/22/1982)
Death In A Funny Position - Part 2 (10/22/1982)
What A Revoltin' Development (10/29/1982)
Thy Brother's Keeper (11/5/1982)
Quest For Retire (11/12/1982)
Teacher's Pest (11/19/1982)
Benson's Army Reunion (11/26/1982)
Benson's New Home (12/3/1982)
Crimes Of The Hearth (12/10/1982)
Mary And Her Lambs (12/17/1982)
Pen Pal (12/31/1982)
The Honeymooners (1/7/1983)
Close Encounters on the Third Hole (1/14/1983)
Katie's Boyfriend (1/21/1983)
The Royal Painting (1/28/1983)
Boy's Night Out (2/4/1983)
Family Tree (2/18/1983)
Calamity Kraus (2/25/1983)
Kraus Sings The Blues (3/4/1983)
Half-Court Trap (3/11/1983)
A View From The Roof (3/18/1983)
Love In A Funny Phase (3/31/1983)
Season 5
Band Of Gold (9/16/1983)
Human Element (9/23/1983)
God, I Need This Job (9/30/1983)
Who's Arnold? (10/7/1983)
Full Court Press (10/21/1983)
Down the Drain (10/28/1983)
It Ain't Sheik (11/4/1983)
You Can't Give It Away (11/11/1983)
Katie's Cookies (11/18/1983)
Labor Pains (11/25/1983)
Unlisted Love (12/2/1983)
The Governor's Brain Is Missing (12/16/1983)
A Real Gone Daddy (12/23/1983)
Too Pooped To Pip (1/6/1984)
In All the Wrong Places (1/13/1984)
Embarrassing Moments (1/20/1984)
Take My Life, Please (1/27/1984)
Beauty And The Beef (2/3/1984)
We Deliver (2/24/1984)
The Endicott Dynasty (3/2/1984)
The Little Hotel That Could (3/9/1984)
Let's Play Doctor (5/4/1984)
Season 6
The Scandal (9/21/1984)
The Inheritance (9/28/1984)
Let's Get Physical (10/12/1984)
The Campaign (10/19/1984)
The Election (10/26/1984)
Made In Hong Kong - Part 1 (11/2/1984)
Made In Hong Kong - Part 2 (11/9/1984)
Hello, We Must Be Going (11/16/1984)
Double Date (11/23/1984)
Taking It To the Max (11/30/1984)
The Reunion (12/7/1984)
Make War, Not Love (12/14/1984)
Home For Christmas (12/21/1984)
On The Road (1/11/1985)
Take This Job And Love It (1/18/1985)
Making Change (1/25/1985)
Solid Gold (2/1/1985)
The Oval Office (2/8/1985)
Mid-life Cowboy (2/15/1985)
Scenario (2/22/1985)
Portrait Of A Politician (3/15/1985)
Katie's Cousin (3/22/1985)
The Bookburner (3/29/1985)
Jung At Heart (4/5/1985)
Season 7
Benson The Hero (10/4/1985)
Love And Politics (10/11/1985)
Uncle Jack (10/18/1985)
The Stranger (10/25/1985)
We Spy (11/8/1985)
$1,000,000 an Hour (11/15/1985)
Flight Of The Dodo - Part 1 (11/29/1985)
Flight Of The Dodo - Part 2 (12/6/1985)
Two Boys And Their Dog (12/13/1985)
Last Man On Earth (1/3/1986)
Secret Love (1/18/1986)
Summer Of Discontent (1/25/1986)
Parade Rest (2/1/1986)
Reel Murder - Part 1 (2/8/1986)
Reel Murder - Part 2 (2/15/1986)
The Hat and the Ring (2/22/1986)
The Bucks Stop Here (3/1/1986)
Pardon Me (3/15/1986)
Hi, Society (3/22/1986)
Three On A Mismatch (3/29/1986)
Friends And Enemies (4/12/1986)
And The Winner is . . . (4/19/1986)
Find Your Favorite Shows From Our List Of Thousands!
Thank you for visiting our Benson TV show page!
Copyright © 1997-Present CrazyAboutTV.com
All rights reserved