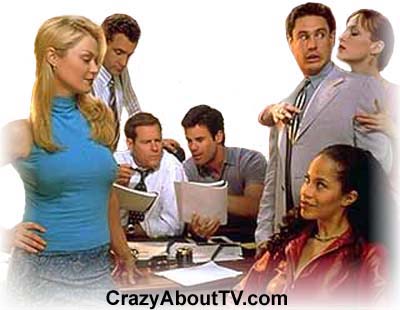 Series Description
The Beggars and Choosers TV was a 60 minute comedy series on Showtime that explored the behind-the-scenes activities at a struggling TV network that was just one step short of financial ruin. The President of the network tried his best to keep things afloat while his evil female Vice-President conspired behind his back in her efforts to take his job.
Beggars and Choosers Cast
Brian Kerwin .... Rob Malone
Tuc Watkins .... Malcolm Laffley
Sherri Saum .... Casey Lenox
Ben Bass .... Brian Peske
Kaj-Erik Eriksen .... Carey Malone
Colin Cunningham .... Herb Kolodny
Rudolf Martin .... Nicky Krasnakov
Klodyne Rodney .... Latitia Martinez (1999-2000)
Christina Hendricks .... Kelly Kramer (2000-2001)
Justin Carroll .... Nigel Gibney (2000-2001)
Episodes List With Original Air Dates
Season 1

The Mountainmen - Part 1 (6/19/1999)
The Mountainmen - Part 2 (6/19/1999)
Once More Unto The Breach (6/26/1999)
The Hat Trick (7/3/1999)
The Ethel Merman Story (7/10/1999)
The Deal (7/17/1999)
Sex, Drugs, And Videotape (7/24/1999)
Unsafe Sex (7/31/1999)
The Velvet Curtain (8/7/1999)
Touched By An Angel (8/14/1999)
Is It Good Or Bad For The Jews? (8/21/1999)
White Woman's Burden (8/28/1999)
Shakedown In Puerto Vallarta (9/4/1999)
Don't Try This At Home (9/11/1999)
Star Whores (11/27/1999)
Always Leave 'Em Laughing (12/4/1999)
Faith, Hope, And Chastity (12/11/1999)
Russian Roulette (2/19/2000)
Death In Malibu (2/26/2000)
Fasten Your Seatbelts (3/4/2000)
Disinformed Sources (3/11/2000)
The Cherry Orchard (3/18/2000)
Season 2
PMS.COM (6/27/2000)
Fifty-Three Percent Solution (7/4/2000)
Sex And Violence (7/11/2000)
Dog Day Afternoon (7/18/2000)
The Naked Truth (7/25/2000)
An Asian In The Sun (8/1/2000)
The Leak (8/8/2000)
Hello Dalai (8/15/2000)
Zero Tolerance (8/22/2000)
The Wartime Consigliere (8/29/2000)
Be Careful What You Wish For (9/5/2000)
Killer Sushi (9/12/2000)
Woodhouse (12/5/2000)
Moles, Meatloaf & Myrna Loy (12/12/2000)
The Hat Trick (12/19/2000)
Find Your Favorite Shows From Our List Of Thousands!
Thank you for visiting our Beggars And Choosers TV show page!
Copyright © 1997-Present CrazyAboutTV.com
All rights reserved