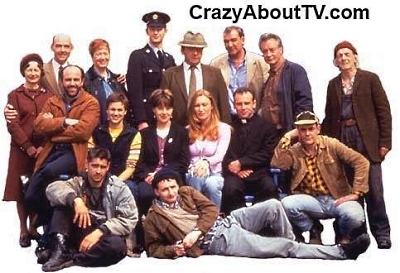 Series Description
Ballykissangel was a 50 minute British drama series on BBC1 about an English priest who was transfered from Manchester to a small Irish village called Ballykissangel. The local residents couldn't help but wonder why And English priest would come to Ireland. Anyway, there was an obvious setting there for conflict.
Ballykissangel Cast
Niall Toibin .... Father Frank MacAnally
Deirdre Donnelly .... Siobhan Mehigan
Gary Whelan .... Brendan Kearney
Aine Ni Mhuiri .... Kathleen Hendley
Bosco Hogan .... Dr. Michael Ryan
Joe Savino .... Liam Coghlan
Frankie McCafferty ... Donal Docherty
Tony Doyle .... Brian Quigley
Peter Hanly .... Ambrose Egan
Birdy Sweeney .... Eamonn Byrne
Tina Kellegher .... Niamh Quigley/Egan
Dervla Kirwan .... Assumpta Fitzgerald
Stephen Tompkinson ... Father Peter Clifford
Sam Farrar .... Kieran Egan
James Nesbitt .... Leo McGarvey
Episodes List With Original Air Dates
Season 1

Trying To Connect You (2/11/1996)
The Things We Do For Love (2/18/1996)
Live In My Heart And Pay No Rent (2/25/1996)
Fallen Angel (3/3/1996)
The Power And The Gory (3/10/1996)
Missing You Already (3/17/1996)
Season 2
For One Night Only (1/5/1997)
River Dance (1/12/1997)
In The Can (1/19/1997)
The Facts Of Life (1/26/1997)
Someone To Watch Over Me (2/2/1997)
Only Skin Deep (2/9/1997)
Money, Money, Money (2/16/1997)
Chinese Whispers (2/23/1997)
Christmas Special
As Happy As A Turkey on Boxing Day (12/21/1997)
Season 3
When A Child Is Born (3/1/1998)
Changing Times! (3/8/1998)
Stardust In Your Eyes (3/15/1998)
The Fortune In Men's Eyes (3/22/1998)
I Know When I'm Not Wanted (3/29/1998)
Personal Call (4/5/1998)
Lost Sheep (4/12/1998)
The Waiting Game (4/19/1998)
Pack Up Your Troubles (4/26/1998)
The Reckoning (5/3/1998)
Amongst Friends (5/4/1998)
Season 4
All Bar One (9/20/1998)
He Healeth The Sick (9/27/1998)
Bread And Water (10/4/1998)
Par For The Course (10/11/1998)
The Odd Couple (10/18/1998)
Turf (10/25/1998)
It's A Family Affair (11/1/1998)
Rock Bottom (11/8/1998)
As Stars Look Down (11/15/1998)
Births, Deaths And Marriages (11/22/1998)
It's A Man's Life (11/29/1998)
The Final Frontier (12/6/1998)
Season 5
Two Flew Over The Cuckoo's Nest (9/26/199)
Hello And Farewell (10/3/1999)
Catch Of The Day (10/10/1999)
Moving Out (10/17/1999)
Eureka (10/24/1999)
Behind Bars (10/31/1999)
Brendan's Crossing (11/7/1999)
A Few Dollars More (11/21/1999)
The Outsiders (11/28/1999)
With A Song In My Heart (12/5/1999)
Love's Labours (12/19/1999)
Arrivals And Departures (12/28/1999)
Season 6
God.com (3/1/2001)
Drink (3/4/2001)
The Cat And Daddy G. (3/11/2001)
Spirit Proof (3/18/2001)
Paul Dooley Sleeps With The Fishes (3/25/2001)
In A Jam (4/1/2001)
One Reborn Every Minute (4/8/2001)
Smoke Signals (4/15/2001)
Find Your Favorite Shows From Our List Of Thousands!
Thank you for visiting our Ballykissangel page!
Copyright © 1997-Present CrazyAboutTV.com
All rights reserved