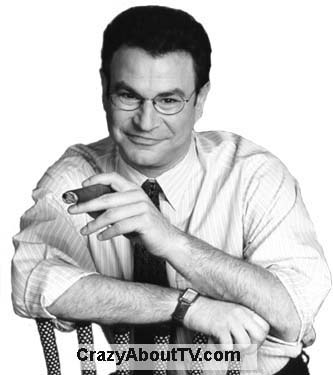 Series Description
The Arli$$ TV show was a 30 minute sports/comedy series on HBO about an agent who represented sports figures. He was without a doubt the best agent that the world has ever seen and he was idolized by his clients and sports fans alike! In addition, he was also a no nonsense businessman who cared nothing for those who might get hurt by his hard-nosed business dealings and that often led him into difficult situations.
Arli$$ Cast
Robert Wuhl .... Arli$$ Michaels
Jim Turner .... Kirby Carlisle
Michael Boatman .... Stanley Babson
Sandra Oh .... Rita Wu
Episodes List With Original Air Dates
Season 1

A Man Of Our Times (8/10/1996)
Negotiating: It's Never Personal (8/14/1996)
How To Turn A Minus Into A Plus (8/21/1996)
Athletes ARE Role Models (8/28/1996)
What About The Fans (9/4/1996)
The Company You Keep (9/11/1996)
Crossing The Line (9/18/1996)
Colors Of The Rainbow (9/25/1996)
Timing Is Everything (10/2/1996)
The Client's Best Interest (10/9/1996)
The Stuff Dreams Are Made Of (10/16/1996)
Season 2
A Full Service Agency (6/17/1997)
The Value Of Loyalty (6/24/1997)
Arli$$ Michaels, American (7/1/1997)
The World At Your Feet (7/8/1997)
Salary Cap This! (7/15/1997)
Kirby Carlisle, Trouble-Shooter (7/22/1997)
The Real Thing (7/29/1997)
Visionary For A New Millenium (8/5/1997)
How To Be A Good Listener (8/12/1997)
Truth And Responsibility (8/19/1997)
Season 3
Whatever It Takes (6/7/1998)
My Job Is To Get Jobs (6/14/1998)
Fans First (6/21/1998)
The Family Trust (6/28/1998)
Where Do Clients Come From? (7/5/1998)
The Legacy (7/12/1998)
What Arli$$ Hath Joined Together... (7/19/1998)
The Working Man's Friend (7/26/1998)
Stanley Babson... Win, Place, Or Show (8/2/1998)
Behind Every Great Client... (8/9/1998)
The American Game (8/16/1998)
What Would I Do Without Wu? (8/23/1998)
His Name Is Arli$$ Michaels (8/30/1998)
Season 4
Cause And Effect (6/6/1999)
Our Past, Our Present, Our Future (6/13/1999)
People Are Assets, Too (6/20/1999)
The Stories You Don't Hear About (6/27/1999)
Taking One For The Team (7/4/1999)
You Gotta Love This Game (7/11/1999)
The Changing Of The Guard (7/18/1999)
To Thine Own Self Be True (7/25/1999)
The Cult Of Celebrity (8/1/1999)
D-Day (8/8/1999)
The Art Of Give And Take (8/15/1999)
Rules Of The Game (8/22/1999)
Season 5
Making Things Happen (6/4/2000)
Creatures Of Habit (6/11/2000)
I Get Involved (6/18/2000)
Comings And Goings (6/25/2000)
It's Who You Know (7/9/2000)
The Value Of Honesty (7/16/2000)
The Sum Of The Parts (7/23/2000)
Honoring Our Past (7/30/2000)
The Fire Within (8/6/2000)
Last Call (8/13/2000)
The Truth Shall Set You Free (8/20/2000)
Where There's A Will (8/27/2000)
When Opportunity Knocks (9/3/2000)
Season 6
Setting Precedents (6/10/2001)
You Are Your Priorities (6/17/2001)
Fielding Offers (6/24/2001)
A Question Of Character (7/1/2001)
Find Your Favorite Shows From Our List Of Thousands!
Thank you for visiting our Arli$$ TV show page!
Copyright © 1997-Present CrazyAboutTV.com
All rights reserved