TV Show Trivia, Episode
Lists, Descriptions,
& Cast Photos!


Action TV Shows
Home
---

NOTE: Lists compiled by
date 1st episode aired:

40s TV Shows
---

TV Shows on Dvd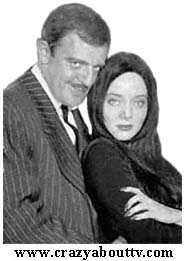 Series Description
The Addams Family was a 30 minute fantasy/comedy series on ABC about an ideal family who love each other. The kids are perfect little angels. Their neighbors should adore them except for one thing ... they're monsters! The plot of the series centered around how they interacted with normal people and how those people reacted to them.
The Addams Family Cast
John Astin ................ Gomez Addams
Carolyn Jones ............. Morticia Addams
Jackie Coogan ............. Uncle Fester
Ken Weatherwax ............ Pugsley Addams
Lisa Loring ............... Wednesday Addams
Felix Silla ............... Cousin Itt
Ted Cassidy ............... Lurch
Blossom Rock .............. Grandmana Addams



Theme Song
Title: The Addams Family
Written and Sung By: "Vic Mizzy"

They're creepy and they're kooky,
Mysterious and spooky,
They're all together ooky,
The Addams Family.

Their house is a museum,
Where people come to see 'em,
They really are a scream,
The Addams Family.

(Neat)
(Sweet)
(Petite)

So get a witches shawl on,
A broomstick you can crawl on,
We're gonna pay a call on,
The Addams Family.
The Addams Family Trivia
The Addams Family TV show was created by "Charles Addams" who had worked together with famed sci-fi author Ray Bradbury on an idea about a wealthy, monstrous type family who lived among normal humans and had no idea that they were different in any way or that others were afraid of them. When Addams and Bradbury failed to procure a publisher for their idea, they split up. Bradbury continued the idea as "The Elliot Family" and Addams as "The Addams Family". The Addams Family appeared as single cartoons in the "New Yorker Magazine" from 1938 until Addams' death in 1988. There have been other Addams Family television series, Addams Family movies, and Addams Family video games.

In addition to writing the Addams Family theme song, Vic Mizzy also wrote the theme for "Green Acres" and "Captain Nice". Vic was one of the first TV theme composers to demand that he retain ownership of his songs. The theme to the Addams Family became an extremely popular tune at sporting events and every time it was played, Vic earned a few bucks!

Wednesday had a doll that she called, "Marie Antoinette" because Pugsley had chopped its head off with a tiny guillotine!

Morticia's favorite plant was a man-eater she called, "Cleopatra".

There was a human leg in the mouth of the swordfish that was mounted on the Addams Family's wall.

During production of the Addams Family TV show, Carolyn Jones married Aaron Spelling, the executive producer of the show.

Pugsley was originally going to be called "Pubert". In the Addams Family movies, Gomez and Morticia have a third child named "Pubert". In the comics, Pugsley was an evil kid who lived next door to the Addams. When this 1964 TV series began, he became a loving, genius big brother who would do anything for his little sister Wednesday. Then in the movies he is Wednesday's younger brother who simply adores his big sister and will do her bidding no matter how evil her plans.

Aaron was the king of TV producers from the 1960s through the 1990s. The number of hit shows that he produced is amazing! They included:
"Johnny Ringo (1959)", "Daniel Boone (1964)", "The Mod Squad (1968)", "The Rookies (1972)", "Starsky and Hutch (1975)", "Charlie's Angels (1976)", "The Love Boat (1977)", "Fantasy Island (1978)", "Hart to Hart (1979)", "Dynasty (1981)", "T.J. Hooker (1982)", "Beverly Hills, 90210 (1990)", "Melrose Place (1992)", "7th Heaven (1996)", "Charmed (1998)".

The Addams Family's home address is 000 Cemetery Lane.

Ted Cassidy (Lurch) provided the opening narrative for each episode of "The Incredible Hulk TV Show". Fans generally figured that Lou Ferrigno who played the "monster" on that series also did the monster's telltale "growl" but that was also provided by Ted Cassidy! Don't feel too bad for Ferrigno though. He finally got to provide the Hulk's growl in the 2008 Incredible Hulk movie!

Thing had a girlfriend named, "Ladyfingers".
Episodes List With Original Air Dates
Season 1
1.... The Addams Family Goes To School (9/18/1964)
2.... Morticia Goes To The Psychiatrist (9/25/1964)
3.... Fester's Punctured Romance (10/2/1964)
4.... Gomez The Politician (10/9/1964)
5.... The Addams Family Tree (10/16/64)
6.... Morticia Joins The Ladies League (10/23/64)
7.... Halloween With The Addams Family (10/30/1964)
8.... Green-Eyed Gomez (11/6/64)
9.... The New Neighbors Meet The Addams Family (11/13/64)
10... Wednesday Leaves Home (11/20/1964)
11... The Addams Family Meets The V.I.P.s (11/27/64)
12... Morticia, The Matchmaker (12/4/1964)
13... Lurch Learns To Dance (12/11/1964)
14... Art And The Addams Family (12/18/1964)
15... The Addams Family Meets A Beatnik (1/1/65)
16... The Addams Family Meets The Undercover Man (1/8/65)
17... Mother Lurch Visits The Addams Family (1/15/1965)
18... Uncle Fester's Illness (1/22/65)
19... The Addams Family Splurges (1/29/1965)
20... Cousin Itt Visits The Addams Family (2/5/65)
21... The Addams Family In Court (2/12/1965)
22... Amnesia In The Addams Family (2//65)
23... Thing Is Missing (3/5/1965)
24... Crisis In The Addams Family (3/12/65)
25... Lurch And His Harpsichord (3//1965)
26... Morticia, The Breadwinner (3/26/1965)
27... The Addams Family And The Spacemen (4/2/1965)
28... My Son, The Chimp (4/9/1965)
29... Morticia's Favorite Charity (4/16/1965)
30... Progress And The Addams Family (4/23/1965)
31... Uncle Fester's Toupee (4/30/1965)
32... Cousin Itt And The Vocational Counselor (5/7/1965)
33... Lurch, The Teenage Idol (5/14/1965)
34... The Winning Of Morticia Addams (5/21/1965)
Season 2
35... My Fair Cousin Itt (9/17/1965)
36... Morticia's Romance - Part 1 (9/24/1965)
37... Morticia's Romance - Part 2 (10/1/1965)
38... Morticia Meets Royalty (10/8/1965)
39... Gomez, The People's Choice (10/15/1965)
40... Cousin Itt's Problem (10/22/1965)
41... Halloween, Addams Style (10/29/1965)
42... Morticia, The Writer (11/5/1965)
43... Morticia, The Sculptress (11/12/1965)
44... Gomez, The Reluctant Lover (11//1965)
45... Feud In The Addams Family (11/26/1965)
46... Gomez, The Cat Burgler (12/3/1965)
47... Portrait Of Gomez (12/10/1965)
48... Morticia's Dilemma (12/17/1965)
49... Christmas With The Addams Family (12/24/1965)
50... Uncle Fester, Tycoon (12/31/1965)
51... Morticia And Gomez vs. Fester And Grandmama (1/7/1966)
52... Fester Goes On A Diet (1/14/1966)
53... The Great Treasure Hunt (1/21/1966)
54... Ophelia Finds Romance (1/28/1966)
55... Pugsley's Allowance (2/4/1966)
56... Happy Birthday Grandma Frump (2/11/1966)
57... Morticia, The Decorator (2/18/1966)
58... Ophelia Visits Morticia (2/25/1966)
59... Addams Cum Laude (3/4/1966)
60... Cat Addams (3/11/1966)
61... Lurch's Little Helper (3/18/1966)
62... The Addams Policy (3/25/1966)
63... Lurch's Grand Romance (4/1/1966)
64... Ophelia's Career (4/8/1966)
Thank you for visiting our The Addams Family TV Show Cast, Theme Song, Episodes page!
Copyright © 1997-Present CrazyAboutTV.com
All rights reserved