TV Show Trivia, Episode
Lists, Descriptions,
& Cast Photos!


Action TV Shows
Comedy TV Shows
Drama TV Shows
Fantasy & Horror
Kids TV Shows
Miniseries
Reality TV Shows
Sci-Fi TV Shows
TV Game Shows
All Others
TV Shows
---

NOTE: Lists compiled by
date 1st episode aired:

40s TV Shows
50s TV Shows
60s TV Shows
70s TV Shows
80s TV Shows
90s TV Shows
2000s TV Shows
---

TV Shows on Dvd
TV Show Theme Songs
TV Trivia
TV Spin-Offs
TV Forums
Privacy Policy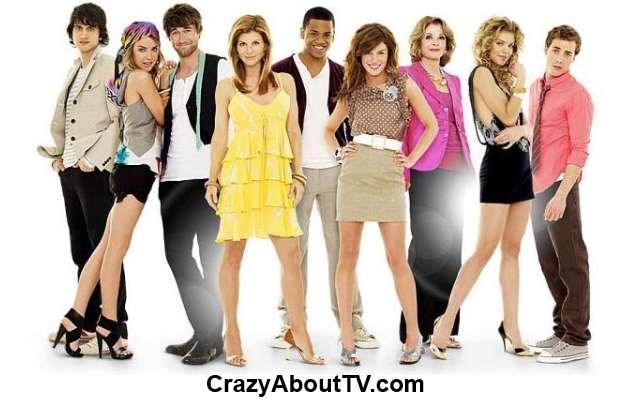 Series Description
The 90210 TV series is a 60 minute romantic drama that premiered on September 2, 2008 on the CW. It's a remake of the 1990-2000 series "Beverly Hills 90210" and follows pretty much the same storyline. A midwestern family uproots themselves and moves to Beverly Hills, California. They experience a definite culture shock! They're not in Kansas anymore, that's for sure! Most of the episodes concentrate on the challenges of the high school lives of the kids in dealing with an "upper-crust" group of peers where appearance often means more than substance. Their relationships with their parents and friends are also highlighted.
90210 Cast
Shenae Grimes ................. Annie Wilson
Rob Estes ..................... Harry Wilson
Tristan Wilds ................. Dixon Wilson
AnnaLynne McCord .............. Naomi Clark
Dustin Milligan ............... Ethan Ward
Ryan Eggold ................... Ryan Matthews
Lori Loughlin ................. Debbie Wilson
Jessica Walter ................ Tabitha Wilson
Michael Steger ................ Navid Shirazi
Jessica Stroup ................ Silver
Episodes List With Original Air Dates
90210 - The First Season
We're Not In Kansas Anymore (9/2/2008)
The Jet Set (9/2/2008)
Lucky Strike (9/9/2008)
The Bubble (9/16/2008)
Wide Awake and Dreaming (9/23/2008)
Model Behavior (9/30/2008)
Hollywood Forever (10/7/2008)
There's No Place Like Homecoming (10/28/2008)
Secrets and Lies (11/4/2008)
Games People Play (11/11/2008)
That Which We Destroy (11/18/2008)
Hello, Goodbye, Amen (1/6/2009)
Love Me or Leave Me (1/13/2009)
By Accident (1/20/2009)
Help Me, Rhonda (2/3/2009)
Of Heartbreaks and Hotels (2/10/2009)
Life's A Drag (3/31/2009)
Off The Rails (4/7/2009)
Okaeri, Donna! (4/14/2009)
Between a Sign and a Hard Place (4/21/2009)
The Dionysian Debacle (4/28/2009)
The Party's Over (5/5/2009)
Zero Tolerance (5/12/2009)
One Party Can Ruin Your Whole Summer (5/19/2009)
90210 - The Second Season
To New Beginnings! (9/8/2009)
To Sext or Not to Sext (9/15/2009)
Sit Down, You're Rocking the Boat (9/22/2009)
The Porn King (9/29/2009)
Environmental Hazards (10/6/2009)
Wild Alaskan Salmon (10/13/2009)
Unmasked (10/20/2009)
Women's Intuition (11/3/2009)
A Trip to the Moon (11/10/2009)
To Thine Own Self Be True (11/17/2009)
And Away They Go! (12/1/2009)
Winter Wonderland (12/8/2009)
Rats and Heroes (3/9/2010)
Girl Fight (3/16/2010)
What's Past is Prologue (3/23/2010)
Clark Raving Mad (3/30/2010)
Sweaty Palms and Weak Knees (4/6/2010)
Another Another Chance (4/13/2010)
Multiple Choices (4/27/2010)
Meet The Parent (5/4/2010)
Javianna (5/11/2010)
Confessions (5/18/2010)
90210 - The Third Season
Senior Year, Baby (9/13/2010)
Age Of Inheritance (9/20/2010)
2021 Vision (9/27/2010)
The Bachelors (10/4/2010)
Catch Me If You Cannon (10/11/2010)
How Much Is That Liam In The Window (10/25/2010)
I See London, I See France... (11/1/2010)
Mother Dearest (11/8/2010)
They're Playing Her Song (11/15/2010)
Best Lei'd Plans (11/29/2010)
Holiday Madness (12/6/2010)
Liars (1/24/2011)
It's Getting Hot in Here (1/31/2011)
All About a Boy (2/7/2011)
Revenge with the Nerd (2/14/2011)
It's High Time (2/21/2011)
Blue Naomi (2/28/2011)
The Enchanted Donkey (4/18/2011)
Nerdy Little Secrets (4/25/2011)
Women on the Verge (5/2/2011)
The Prom Before the Storm (5/9/2011)
To the Future! (5/16/2011)
90210 - The Fourth Season
Up In Smoke (9/13/2011)
Rush Hour (9/20/2011)
Greek Tragedy (9/27/2011)
Let The Games Begin (10/4/2011)
Party Politics (10/11/2011)
Benefit of the Doubt (10/18/2011)
It's The Great Masquerade, Naomi Clark (11/1/2011)
Vegas, Maybe? (11/8/2011)
A Thousand Words (11/15/2011)
Smoked Turkey (11/22/2011)
Project Runaway (11/29/2011)
O Holly Night (12/6/2011)
Should Old Acquaintance Be Forgot? (1/17/2012)
Mama Can You Hear Me? (1/24/2012)
Trust, Truth and Traffic (1/31/2012)
No Good Deed (2/7/2012)
Babes In Toyland (3/6/2012)
Blood Is Thicker Than Mud (3/13/2012)
The Heart Will Go On (3/20/2012)
Blue Ivy (3/27/2012)
Bride and Prejudice (4/24/2012)
'Tis Pity (5/1/2012)
A Tale of Two Parties (5/8/2012)
Forever Hold Your Peace (5/15/2012)
90210 - The Fifth Season
Til Death Do Us Part (10/8/2012)
The Sea Change (10/15/2012)
It's All Fun and Games (10/22/2012)
Into The Wild (11/5/2012)
Hate 2 Love (11/12/2012)
The Con (11/19/2012)
99 Problems (11/26/2012)
902-100 (12/3/2012)
The Things We Do For Love (12/10/2012)
Misery Loves Company (1/21/2013)
We're Not Not in Kansas Anymore (1/28/2013)
Here Comes Honey Bye Bye (2/4/2013)
Realness (2/11/2013)
Brother from Another Mother (2/18/2013)
Strange Brew (2/25/2013)
Life's a Beach (3/4/2013)
Dude, Where's My Husband? (3/11/2013)
A Portrait of the Artist As a Young Call Girl (4/15/2013)
The Empire State Strikes Back (4/22/2013)
You Can't Win Em All (4/29/2013)
Scandal Royale (5/6/2013)
We All Fall Down (5/13/2013)
Thank you for visiting our 90210 TV series page!
Copyright © 1997-2014 CrazyAboutTV.com
All rights reserved