TV Show Trivia, Episode
Lists, Descriptions,
& Cast Photos!


Action TV Shows
Home
---

NOTE: Lists compiled by
date 1st episode aired:

40s TV Shows
---

TV Shows on Dvd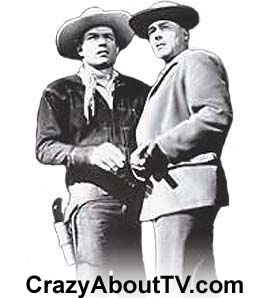 Series Description
26 Men was a western action series (syndicated) about the lives and adventures of the Arizona rangers in the late 1800s to early 1900s.
26 Men Cast
Tristram Coffin ............. Captain Tom Rynning
Kelo Henderson .............. Ranger Clint Travis
Theme Song
Title: "26 Men"
By: "Russell Hayden"

Saddle up, saddle up, saddle up.

This is the story of 26 Men.
Who rode the Arizona Territory.
High is the glory of 26 Men,
Whose parish helped to fill the Territory.

26 Men who saddled up and then
Rode out to answer duty's call.
26 Men who lived to ride again
And fight for the rights and the liberty of all.

This is the story of 26 Men
Enforcing law within the Territory.
Praise be the Glory of 26 Men
Who rode the Arizona Territory.

Ride on. Ride on. Ride on.



Episodes List With Original Air Dates
26 Men Season 1
The Recruit (10/15/1957)
The Wild Bunch (10/29/1957)
Border Incident (11/5/1957)
Destination Nowhere (11/12/1957)
Incident at Yuma (11/19/1957)
The Slater Brothers (11/26/1957)
Dean Man at Tucson (12/3/1957)
Man on the Run (12/10/1957)
The Big Rope (12/17/1957)
Valley of Fear (12/24/1957)
Indian Gunslinger (12/31/1957)
Trail of Darkness (1/7/1958)
Panic at Bisbee (2/4/1958)
Insurrection (2/11/1958)
Slaughter Trail (2/18/1958)
Gun Hand (2/25/1958)
Cattle Embargo (3/4/1958)
Badge to Kill (3/11/1958)
Montezuma's Cave (3/18/1958)
Sundown Decision (3/25/1958)
The Parrish Gang (4/1/1958)
Hoax at Globe (4/8/1958)
Bounty Hunters (4/15/1958)
Legacy of Death (4/29/1958)
Chain Gang (5/6/1958)
The Bells of St. Thomas (5/13/1958)
Hondo Man (5/20/1958)
The Vanquisher (5/27/1958)
Runaway Stage (6/17/1958)
Wayward Gun (6/24/1958)
Hole Up (7/1/1958)
Killer's Trail (7/15/1958)
26 Men Season 2
The Glory Road (10/7/1958)
Show of a Doubt (10/14/1958)
Man in Hiding (10/21/1958)
Cross and Doublecross (10/27/1958)
The Last Rebellion (11/4/1958)
Brief Glory (11/11/1958)
Dog Eat Dog (11/18/1958)
Judge Not (11/25/1958)
My Brothers Keeper (12/2/1958)
Run No More (12/9/1958)
Manhunt (12/16/1958)
The Avenger (12/23/1958)
False Witness (12/30/1958)
The Torch (1/6/1959)
Trail of Revenge (1/13/1959)
The Hellion (1/20/1959)
Ranger Without a Badge (1/27/1959)
Showdown (2/3/1959)
Long Trail Home (2/10/1959)
Death in the Dragoons (2/17/1959)
Ricochet (2/24/1959)
The Has-Been (3/24/1959)
The Unwanted (3/31/1959)
Live and Let Die (4/7/1959)
Trial at Verde River (4/14/1959)
Scorpion (4/21/1959)
The Last Kill (4/28/1959)
Redskin (5/5/1959)
Cave-In (5/12/1959)
Terror in Paradise (5/19/1959)
Fighting Men (5/26/1959)
Tumbleweed Ranger (6/2/1959)
Abandoned (6/16/1959)
Bandit Queen (6/23/1959)
Thank you for visiting our 26 Men TV Western Series Theme Song page!
Copyright © 1997-Present CrazyAboutTV.com
All rights reserved