TV Show Trivia, Episode
Lists, Descriptions,
& Cast Photos!


Action TV Shows
Home
---

NOTE: Lists compiled by
date 1st episode aired:

40s TV Shows
---

TV Shows on Dvd
100 Centre Street TV Show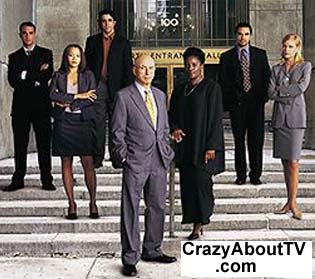 Series Description
The 100 Centre Street TV show was a 60 minute, crime/drama series on A&E about the work and personal lives of workers at a courthouse located in New York City at (you guessed it) 100 Centre Street.
100 Centre Street Cast
Alan Arkin ................ Judge Joe Rifkind
LaTanya Richardson ........ Judge Queenie Sims
Manny Perez ............... Ramon Rodriguez
Joseph Lyle Taylor ........ Bobby Esposito
Paula Devicq .............. Cynthia Bennington
Episodes List With Original Air Dates
The First Season
Bobby And Cynthia (1/15/2001)
Queenie And Joe (1/15/2001)
And Justice For Some (1/22/2001)
My Brother's Keeper (1/29/2001)
No Good Deed Goes Unpunished (2/5/2001)
Hostage (2/12/2001)
Things Change (2/19/2001)
Lady Paris (2/26/2001)
A Shot In The Dark (3/5/2001)
Joe Must Go (3/12/2001)
The Bug (3/19/2001)
Domestic Abuses (3/26/2001)
Let's Make A Night Of It (4/2/2001)
The Second Season
Kids (10/8/2001)
Kids 2 (10/15/2001)
Love Stories (10/22/2001)
Queenie's Tough (10/29/2001)
The Fix (11/5/2001)
Daughters (11/12/2001)
Lost Causes (11/19/2001)
Queenie's Running (11/26/2001)
Andromeda And The Monster (12/11/2001)
Bottlecaps (12/18/2001)
End Of The Month (1/8/2002)
Give Up Or Fight (1/15/2002)
Babies (1/22/2002)
Zero Tolerance (1/29/2002)
Justice Delayed (2/5/2002)
Hurricane Paul (2/12/2002)
Fathers (2/26/2002)
It's About Love (3/5/2002)
Thank you for visiting our 100 Centre Street TV Show page!
Copyright © 1997-2014 CrazyAboutTV.com
All rights reserved